Researchers secure funding to help the transition to sustainable energy for the built environment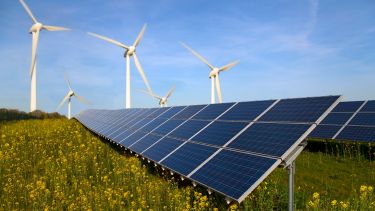 New University of Sheffield research could deliver considerable energy savings for UK consumers 
Research to develop models for the use of energy storage
New software to be designed for energy transitions as the UK moves towards electric vehicles and transport by 2040
Engineers at the University of Sheffield have secured funding to transform renewable energy solutions and energy storage by creating new software, micro-grids and virtual power plants. Their aim is to explore the cutting-edge of smart grid innovation for the use of energy storage. 
As we move into an increasingly electrified world, from a grid powered by wind, solar and hydropower, to electric vehicle charging stations, demand will grow for energy storage capacity. Energy storage plays an important role in creating a more flexible and reliable grid system. Emissions caused in the construction and use of buildings and infrastructure account for 20 per cent of global carbon dioxide (CO2) emissions, while electricity contributes 20 per cent more. 
Researchers from the University of Sheffield's Energy Institute, working as part of a consortium of nine organisations, have secured £1.4 million in funding to investigate transformative energy solutions with the potential to cut CO2. The team will investigate measures like optimisation of use, local generation from renewable sources and energy storage. They will also consider ways to make energy use more flexible, such as demand response, frequency control, and by reducing peak demand ('peak time shaving') through customers cutting their power consumption for a short period of time to avoid a spike in consumption.
The research will look at large physical building plans and existing sites to identify how energy storage solutions affect return on investment. 
Part of the research will analyse the ability of energy meters to exchange information in both simulated and real-world scenarios, to allow consumers, energy companies and grid operators to forecast efficiencies and evaluate solutions through physical implementation. Research will focus on ensuring that investments made in these new energy technologies match up to performance expectations. 'Energy Open Piazza' will be a software platform that enables the replication of built environment installations and new storage solutions assessed for varying consumption profiles.
The joint initiative is organised by Natural Resources Canada (NRCan) and the UK Department for Business, Energy and Industrial Strategy (BEIS), and aims to support innovators from Canada and the UK. 
Dr Solomon Brown, an Energy Institute member from the Department of Chemical and Biological Engineering, said:
"This opportunity with Energy Open Piazza could deliver savings for consumers and help the UK achieve a cost-effective energy system transformation. The UK could save millions across the electricity system from now to 2050 by deploying flexibility-enabling technologies. 
"As part of this innovative project, we're developing models for the use of energy storage in the built environment. We're applying our understanding to underpin the design of a new software platform enabling partners to benefit from the energy transition. I'm particularly excited to collaborate with the Canadian partners and exchange ideas and expertise with them across different energy systems."
Partner with us
We work with businesses to develop practical low carbon solutions for the energy industry.