Sustainable aviation fuels to be driven by new Boeing and University of Sheffield partnership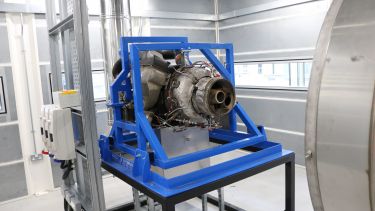 Boeing has become the founding member of the University of Sheffield's new Energy Innovation Centre to drive the development of sustainable aviation fuels (SAF)
Membership gives Boeing access to the first-of-its-kind SAF facility in the UK and other key research facilities at the University to help move toward more sustainable aviation
Sustainably produced jet fuel reduces CO2 emissions by as much as 80 percent over the fuel's lifecycle with the potential to reach 100 percent in the future
New agreement builds on Boeing's longstanding relationship with the University of Sheffield after the company co-founded the Advanced Manufacturing Research Centre (AMRC), a hugely successful model for university and industry collaboration, and opened its first European manufacturing facility in the city – Boeing Sheffield
The University of Sheffield is committed to driving research and innovation that supports global efforts to reach net-zero carbon emissions by 2050. This programme of Research & Development into sustainable aviation fuels will support the aerospace sector to reduce the carbon emissions associated with flying 
Sustainable aviation fuels which will reduce the carbon emissions associated with flying will be driven by a new partnership between Boeing and the University of Sheffield. 
The leading aerospace company has signed a new research partnership with the University, becoming the founding member of the Energy Innovation Centre, a new Research & Development (R&D) scheme to develop new low carbon technologies.
The Energy Innovation Centre, launched by the University of Sheffield Energy Institute, offers partners from industry access to two of the University's newest world class research facilities - the Sustainable Aviation Fuels Innovation Centre (SAF-IC) a first-of-its-kind facility in the UK that will help test and certify new sustainable aviation fuels and the Translational Energy Research Centre (TERC), which will contain pilot-scale production facilities suitable for investigating different methods of producing SAF.
Boeing is set to use the partnership to test, develop and assess new sustainable aviation fuels, which are vital to reducing carbon emissions and reaching net zero. 
SAF offers the most immediate and greatest potential to decarbonise aviation over the next 20 to 30 years. Sustainably produced jet fuel reduces CO2 emissions by as much as 80 per cent over the fuel's lifecycle with the potential to reach 100 percent in the future. SAF is certified for commercial use and can be blended by up to 50 per cent with traditional jet fuel without modifications to aeroplanes, engines or fueling infrastructure. Boeing has committed to deliver its commercial aeroplanes capable and certified to fly on 100 per cent SAF by 2030.
The partnership, announced today (18 July 2022) at the Farnborough International Airshow, builds on Boeing's longstanding relationship with the University of Sheffield and its presence in South Yorkshire. 
The aerospace giant co-founded the University of Sheffield Advanced Manufacturing Research Centre (AMRC) in 2001 – a hugely successful model for university and industry R&D on the border of Sheffield and Rotherham that contributes more than £55 million to the South Yorkshire economy each year. This successful relationship then led to Boeing opening its first European manufacturing facility in the city, Boeing Sheffield, in 2018. 
With the first membership agreed with Boeing, the University of Sheffield hopes to welcome more industry partners to the Energy Innovation Centre, which could provide a major boost to regional and national efforts to decarbonise industrial processes and transport, enhance the innovation capabilities of UK businesses, and strengthen vital academic and industry partnerships. 
The University of Sheffield is committed to driving research and innovation that supports global efforts to reach net-zero carbon emissions by 2050. This programme of R&D into sustainable aviation fuels will support the aerospace sector to reduce the carbon emissions associated with flying.
Professor Koen Lamberts, President and Vice-Chancellor of the University Sheffield, said: "At a time when the UK's commitment to net zero is questioned and debated, R&D into low carbon technologies and products couldn't be more important. We are delighted to welcome Boeing as a founding partner of the University of Sheffield Energy Innovation Centre. Our partnership with Boeing spans over 20 years, and together we are committed to developing the type of innovation needed to address some of the world's most pressing challenges." 
Sir Martin Donnelly, President of Boeing Europe and Managing Director of Boeing in the UK and Ireland said: "Boeing has a long history in South Yorkshire, having set up the AMRC to drive innovation in aerospace manufacturing, and subsequently opening our first European manufacturing site there. This opportunity to build upon our existing partnerships with Sheffield and to build new ones, while also working toward a more sustainable future for aviation, is a great privilege for us."
Professor Mohamed Pourkashanian, Head of the University of Sheffield Energy Institute, said: "We are thrilled to welcome Boeing as our first member of the Energy Innovation Centre scheme. The EIC has an impact strategy built around delivering societal and economic benefit through rigorous research with industry, and this connection with Boeing takes a step towards making that aim a reality, especially in the exciting and vital realm of sustainable flight.
"Active engagement with industry and commerce is especially critical to ensuring that research is relevant, timely and positive in its practical applications. We look forward to the growth of this scheme, welcoming future partners of any size and any sector, and boosting the UK's net zero ambitions through innovation R&D."
Brian Moran, Boeing Vice President of Global Sustainability Policy and Partnerships, said: "In order for the aviation industry to meet its net zero carbon emissions commitment by 2050 it will take all of us collaborating and investing in scientific research and testing. We are honored to partner with the University of Sheffield on the UK's first major SAF hub which highlights our global commitment to developing SAF as a safe, proven, near-term solution to decarbonize aviation." 
Energy Minister Greg Hands said: "This partnership, backed by £7 million government funding, will help accelerate the development of cleaner, fuel efficient flight. This will be vital as we work to end our dependency on volatile fossil fuels, to strengthen our energy security and slash emissions."
Aviation Minister Robert Courts said: "This new partnership is a great opportunity to boost the use of sustainable aviation fuels. The University of Sheffield has two of the world's greatest research facilities which Boeing, and hopefully many more, can now use – a crucial step towards a jet zero future.
"Decarbonising the aviation industry remains one of the Government's top priorities, and earlier this year we set out plans for the first transatlantic flight powered by sustainable aviation fuel to take to the skies in 2023."
The University's Translational Energy Research Centre, funded by the Department for Business, Energy and Industrial Strategy and the European Regional Development Fund, is a unique, national pilot-scale facility in which businesses can work with university researchers to develop and test new low carbon technologies. TERC offers a fast-track to turning early stage research into proven, sustainable, low- or zero-carbon products and services that are ready for deployment in the UK and beyond.
Sheffield's Sustainable Aviation Fuels Innovation Centre, also funded by the European Regional Development Fund, is a new facility to help test, certify and deploy new sustainable aviation fuels. SAF-IC is set to give the UK much-needed testing capabilities to help producers of sustainable aviation fuels bring new fuels to market and will establish South Yorkshire as the UK's leading place for R&D in sustainable aviation fuels.
South Yorkshire's Mayor Oliver Coppard said, "It's great to see this fantastic new partnership between Boeing and the University of Sheffield cementing South Yorkshire's place at the cutting edge of low-carbon innovation. Sustainable aviation fuels will be a game-changer in cutting our emissions; vital if we are to reach our net-zero targets, not just here but around the world. I continue to be hugely impressed by the work done by Boeing and the University here in South Yorkshire, an important partnership helping to create hubs of excellence in our region."
The membership scheme is open to industrial partners of any size, from SMEs to multinational corporations. In addition to a tier one membership, the scheme includes options to join at tiers two and three, which both grant access to the facilities and, at tier two level, some representation at board level.
Industrial partners who become members will have access to a platform to prove, test, develop and optimise new technology and ideas, and up-scale and develop technology on a cost-effective basis before investing in commercial-scale testing or production.
To find out more about the membership programme at the Energy Innovation Centre, contact: energyinstitute@sheffield.ac.uk 
Media contact: Sean Barton, Media and PR Officer at the University of Sheffield, 07808 890095, s.barton@sheffield.ac.uk  
Partner with us
We work with businesses to develop practical low carbon solutions for the energy industry.
Flagship institutes
The University's four flagship institutes bring together our key strengths to tackle global issues, turning interdisciplinary and translational research into real-world solutions.