University of Sheffield energy engineers selected to advise government on tackling 'greenwashing' and transitioning to net zero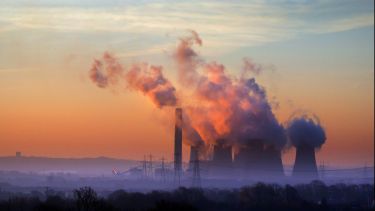 Professor Jonathan Gibbins and Dr Claire Corkhill, both from the Faculty of Engineering and the University's Energy Institute, are world-renowned experts in two of the most significant areas of low-carbon energy research. Professor Gibbins, from the Department of Mechanical Engineering, is Director of the UK Carbon Capture and Storage Research Centre (UKCCSRC) and leads research into carbon capture storage and utilisation, processes which will help businesses to significantly reduce their emissions. 
Dr Claire Corkhill, from the Department of Materials Science and Engineering, is a member of the government's independent advisory group, the Committee on Radioactive Waste Management, and an expert in nuclear energy. Both academics will provide independent expertise to help the UK to reach its goal of reaching net zero carbon emissions by 2050.
The Energy Working Group has been appointed to provide independent expertise to HM Treasury's Green Technical Advisory Group (GTAG) who are advising the government on how to best establish a Green Taxonomy for the UK. The taxonomy will help to better inform businesses about green investment and avoid greenwashing, which involves businesses making exaggerated claims about their commitment to sustainable activity. Setting up a Green Taxonomy framework will enable businesses and consumers to more easily make informed decisions about how to become more sustainable in the transition to net zero. 
An Energy Working Group (EWG) was established as part of the GTAG to provide advice on key technologies such as hydrogen, carbon capture, utilisation and storage, and how to address nuclear power in the Taxonomy – a key element of the UK's net zero plans.
The Energy Working Group is led by Chief Scientific Advisor for the Department of Business, Energy and Industrial Strategy, Professor Paul Monks. Dr Corkhill and Prof Gibbins make up two of twelve members of the committee, and are joined by other academics and energy, finance and business experts. 
Speaking about the appointment, Dr Corkhill said: "The utilisation of nuclear power as a low CO2 energy source is currently at a crossroads in the UK. One of the major questions we will be discussing is whether nuclear energy is a sustainable energy supply, both in terms of its financing and the legacy of radioactive waste it leaves for generations to come. I'm thrilled to be able to contribute to this important initiative ahead of COP26."
Prof Gibbins added: "Decisions made in establishing a green taxonomy are likely to have long-term effects on investment.  The UK's clear focus on achieving net zero GHG emissions by 2050 is likely to lead to a robust approach that can set an example for the rest of the world."
Partner with us
We work with businesses to develop practical low carbon solutions for the energy industry.
A world top-100 university
We're a world top-100 university renowned for the excellence, impact and distinctiveness of our research-led learning and teaching.