University of Sheffield experts lead on global projects to accelerate next-generation nuclear power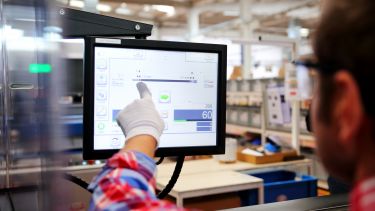 Nuclear power is considered to be one of the key resources in the future of clean energy generation in the UK. To ensure that the next generation of nuclear power plants can run safely, engineers at the University of Sheffield are leading several national and international projects to build software and computational modelling methods to modernise and meet the demands of the advanced nuclear reactor systems.
Professor Shuisheng He, member of the University of Sheffield Energy Institute and professor of thermofluids in the Department of Mechanical Engineering, is providing leadership and expertise on a number of projects researching nuclear thermal hydraulics and high fidelity computational fluid dynamics, as well as programmes providing advice for industry and the government on best practice for the development of nuclear reactors.
Working with a huge range of academic, industrial and international partners, the findings of these projects will upgrade the knowledge and software available for the design of new-generation nuclear reactors, as well as building a community of experts in this important part of reducing greenhouse gas emissions.
One project, led by Professor He and running until February 2025, received more than £250,000 of funding from the EPSRC to establish a Collaborative Computational Project (CCP) for Nuclear Thermal Hydraulics. Involving eight other universities, including the Universities of Manchester, Leeds, Cambridge and Oxford and Imperial College London, as well as other partners, including the Science and Technology Facilities Council, EDF Energy, Rolls-Royce and Wood Nuclear, and an international partner from the United States, the project aims to build a consortium of experts in this very important part of nuclear energy to promote collaborations between research groups and industry through exchanges of visitors, technical meetings, training courses and workshops.
The CCP will also develop and maintain computer codes and other methodology tools for the community – the new software tools will be robust and high-fidelity, and will provide new-generation computational thermal hydraulics analysis, which nuclear reactor systems fundamentally rely on, to ensure safety and improve performance in the next-generation systems.
The UK government has recently supported international collaboration programs in the  development of advanced modular reactors (AMRs). Such AMRs will use non-conventional materials as coolant for the reactor – Liquid Metal-cooled Fast Reactors (LMFRs) and High Temperature Gas-cooled Reactors (HTGRs) are two of the six advanced reactor types selected by The Generation IV International Forum (GIF) for development to be employed in the near future, but for each more information and testing is required.
Professor He and his team are working with the US Department of Energy's Nuclear Energy University Program (NEUP) on several collaborative projects focused on LMFRs and HTGRs. The projects, of which the University of Sheffield will work on the modelling and simulation and the US NEUP on the experimental side, will develop instrumentation technology and computational fluid dynamic (CFD) models and validation for the LMRFs, and high fidelity and engineering CFD models and validation for the HTGRs. Their work will, ultimately, push forward development and understanding of these new nuclear technologies for the benefit of the UK.
The team are also involved in other projects which will provide expertise to the government and industry. Working with Frazer-Nash Consultancy and the University of Manchester, the Digital Reactor Design project sponsored by BEIS, now in its second phase, will see Professor He and his team developing new reactor design tools combining advanced CFD with practical engineering tools. The consortium also produces technical documents which will be issued by the government as best practice guidelines for developing nuclear reactors.
Speaking about his work, Professor Shuisheng He said: "As we strive to increase the use of clean energy and meet national and international emission reductions targets, nuclear energy will play an important role in the UK's energy mix. Ensuring advanced nuclear reactors to be developed have the software and analysis tools they need to function productively and safely is crucial. The wide range of projects led by the University of Sheffield highlights our leading expertise in computational modelling for the future of clean energy from nuclear reactors.
"All the projects we are leading on or involved with will enhance the safety and longevity of advanced nuclear reactors, modernise the technology used and set best practice for their development and maintenance as we arrive at a new generation of nuclear energy.
"Whether working at a global level or within industry, for example our consulting partnership with EDF Energy, we are doing very important work to bring the world closer to safe, clean nuclear energy using innovative computational modelling."
To find out more about the advancement of nuclear-based development at the Energy Institute, click here. 
Partner with us
We work with businesses to develop practical low carbon solutions for the energy industry.
Flagship institutes
The University's four flagship institutes bring together our key strengths to tackle global issues, turning interdisciplinary and translational research into real-world solutions.