Workshop explores the future of electric vehicle supply chains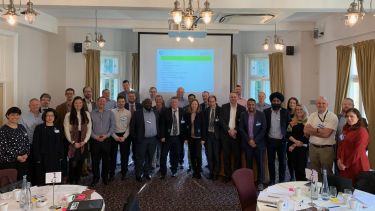 The circular economy industry road-mapping workshop was held at Halifax Hall, in Sheffield on 6th February 2020. Key leaders from industry, the government and academia were invited to the event to discuss opportunities for the EV supply chain.
Throughout the day attendees collaborated in three road mapping sessions to identify opportunities, barriers and research programmes presented by EV. The workshop was a tremendous success with common themes emerging during the road mapping sessions. 
Researchers from the Energy Institute at the University of Sheffield will summarise and collate all the information from the workshop. This could lead to future collaborative opportunities for development of the EV industry.
Martin Wood, Department for International Trade, commented "It was a great chance to share views and opinions about the direction of travel and electrification in the UK".
Antony Cooper, London Electric Vehicle Company, commented "The workshop was a good opportunity to build relations between academia and the industry".
Neil Glover, Rolls Royce said "It was interesting to hear other automotive views with lots of parallels, also differences and joint opportunities."
Dr Linus T. Fon, Manufacturing Technology Centre (MTC) said "Technology and innovation are the key drivers of the next industrial revolution. Businesses will need to explore and upgrade their existing capabilities in order to stay competitive."
Lee Bateup, Bentley, commented "The event was well organised and facilitated by the University of Sheffield, resulting in a clear and inclusive (Full Lifecycle) problem statement, which enabled the multi-disciplinary participants to form a number of avenues of investigation and action. This is the first important step in a long and circuitous journey towards a future in which the transport sector can have near-zero negative environmental impact."
The event forms part of the work of the Advanced Resource Efficiency Centre which supports the development of resource sustainable supply chains by proposing new ways of reducing risk for partners in overcoming the challenges of resource availability.
Professor Lenny Koh, Energy Institute and Director of the Advanced Resource Efficiency Centre said "Sheffield is well placed to support industry and the government on their journey to electrification with our cutting-edge research from materials science, manufacturing, energy, supply chain, circular economy and sustainability.
We bring together our capabilities from the Advanced Resource Efficiency Centre (AREC), Advanced Manufacturing Research Centre (AMRC), Royce Institute and Energy Institute alongside the University of Cambridge's IfM and University of Surrey engineering to make progress through research and innovation.
The transport sector, including the automotive and aerospace industries, and their supply chains are driving this forward alongside the UK Government's commitment to achieving net zero by 2050 and the ban of all petrol and diesel vehicles by 2035."
Partner with us
We work with businesses to develop practical low carbon solutions for the energy industry.