Members of the language and society research area explore the intersection of language and social factors in a range of real-world contexts.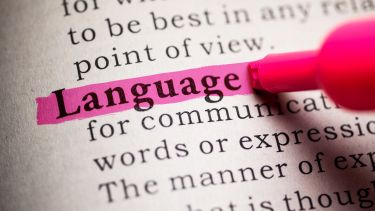 Off
These factors include geographical location, social group, age, gender, identity and the organisation of everyday conversation. Members also work on how language use has changed - and continues to change - over time. Members' wide-ranging research expertise includes variationist sociolinguistics, ethnography, phonetics, conversation analysis, historical sociolingustics, language policy and planning, and perceptual dialectology.
Ongoing topics and projects include:
Dialect and identity in North of England and southern Scotland
The history of the English language in colonial and post-colonial Zimbabwe
The organisation of interactions between primary caregivers and their young children
Attitudes towards the role and status of English in Europe
Members have recently authored or edited several books, including "An Introduction to Regional Englishes", "Urban North-Eastern English: Tyneside to Teesside", "Analysing Older English", "Empirical and Analytical Advances in the Study of English Language Change" and "English in the Language Ecology of Northern Europe".
This is in addition to research articles in high-profile journals - including Clinical Linguistics & Phonetics, Current Issues in Language Planning, Journal of English Linguistics, Journal of Historical Pragmatics, Language & Speech, Language and Literature, Language in Society, Language Variation and Change , Multilingua, and Research on Language and Social Interaction - and chapters in volumes from leading academic publishers including CUP, EUP, John Benjamins, Mouton de Gruyter, OUP and Wiley-Blackwell.
Members of this research area deliver teaching on the MA in English Language and Linguistics. We can offer specialist supervision of postgraduate research in a wide range of areas relating to language and society.
Recent postgraduate topics include:
The organisation of conversation in Urdu, pragmatic analysis of conversations between native and non-native speakers
Sociophonetic ethnography of language variation and ethnicity in Sheffield
Dialect variation in an ex-mining community
Language variation and identity in Stoke-on-Trent
Perceptual approaches to Northern English dialects
Semantic variation and change in present-day English
The communication of risk to patients with diabetes
Staff and postgraduates researching topics in language and society form the core of the Language, Variation and Change reading group, with a regular programme of research talks and workshops by external guest speakers.
In 2013 we hosted the 9th UK Language Variation and Change (UKLVC) conference. In 2014 we host the Historical Sociolinguistics Network (HiSoN) conference.
More detailed profiles for some academic staff involved in this cluster: