Language Change and History
The language change and history research area is home to an extraordinary range of interests, both chronologically and thematically.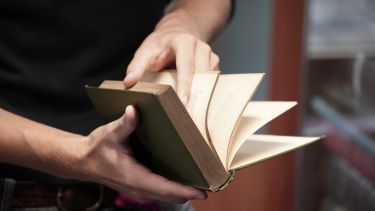 We explore all periods of the history of the English language, from Old English to the present day, and examine the development and use of varieties of spoken and written English, both globally and within the U.K.
We examine non-current forms of language with a focus not only on understanding linguistic structure, but also on interpreting the evidence furnished by historical language use to construct a window onto past societies, cultures, and individuals.
Since a key strand in our research is how and why Language changes, the cluster also examines the history of languages other than English, such as Norwegian and Latin, in order to postulate explanatory mechanisms of change.
The approaches adopted in examining language change and history are equally varied, including formal and functional explanations in historical linguistics, corpus linguistics, socio-historical linguistics, historical pragmatics, and the influences of prescriptivism and language policy.
A strong digital element runs through several strands, facilitated and enhanced by our links with the Digital Humanities Institute. Furthermore, in addition to examining the historical dimension of language, we also conduct research on how people have reflected on language down the ages: the history of linguistics as a discipline.
Members of this research area are actively involved in learned societies and research networks, including the Philological Society, the Henry Sweet Society for the History of Linguistic Ideas and the Historical Sociolinguistics Network.
We hosted the Fourth International Conference on Late Modern English in May 2010, on the theme 'Late Modern English in Context', and are hosting the Historical Sociolinguistics Network (HiSoN) conference in February 2014, on 'Historical Discourses on Language and Power'.
Within the University, members of this cluster are key participants in vibrant, inter-disciplinary centres for research, such as the Sheffield Centre for Early Modern Studies (SCEMS), and meet for monthly discussion arising from a selected paper in historical linguistics at the New Philologists reading group.
Research Projects include:
Rewriting English literary history: the texts and manuscripts of twelfth-century England
The letters, language, and lives of Tudor England
Explaining sound change: reconstructing motivations in diachronic phonology
Dialect representation in Victorian and Edwardian literature
English in colonial and post-colonial Zimbabwe
The role of language in cross-cultural encounters: colonialism and exile
In addition to writing several journal articles and book chapters, members of this research area have published important monographs and collections including:
Dialect and Literature in the Long Nineteenth Century. (Ed.) Jane Hodson. Aldershot: Ashgate, forthcoming
Women's Epistolary Utterance: A Study of the Letters of Joan and Maria Thynne, 1575-1611. Graham Williams. Amsterdam and Philadelphia: John Benjamins, 2013
Linguistique Appliquée et Disciplinisarisation. Special edition of Histoire Epistemologie Langage 33:1. (Eds.) Andrew Linn, Danielle Candel & Jacqueline Léon 2011
The English Language: a Historical Introduction. Charles Barber, Joan C. Beal and Philip Shaw. Cambridge: Cambridge University Press, 2009
Empirical and Analytical Advances in the Study of English Language Change. (Eds.) Susan Fitzmaurice & Donka Minkova. Berlin: Mouton de Gruyter, 2008
Perspectives on Prescriptivism. (Eds.) Joan C. Beal, Carmen Nocera and Massimo Sturiale. Bern: Peter Lang, 2008
Methods in Historical Pragmatics. (Eds.) Susan Fitzmaurice & Irma Taavitsainen. Berlin: Mouton de Gruyter, 2007
Colonialism and Grammatical Representation: John Gilchrist and the Analysis of the 'Hindustani' Language in the Late Eighteenth and Early Nineteenth Centuries (Publications of the Philological Society 41). Richard Steadman-Jones. Oxford: Blackwell, 2007
Creating and Digitizing Language Corpora: Vol. 1, Synchronic Databases; Vol. 2, Diachronic Databases. (Eds.) Joan C. Beal, Karen P. Corrigan & Hermann L. Moisl. Basingstoke: Palgrave Macmillan, 2007
English in Modern Times 1700-1945. Joan C. Beal. London: Hodder Arnold, 2004
Johan Storm: dhi grétest pràktikal liNgwist in dhi werld. Oxford: Blackwell, 2004
Recent and current PhD topics include:
A historical sociolinguistic study on the uses and perceptions of slang in England, 1750-1850
A study on the practical and theoretical issues in the notation of speech sounds (1788 onwards)
Dialect and textual transmission in the Old English translation of Bede's Historia Ecclesiastica
Writing Charms: The Transmission and Use of Charms in Anglo-Saxon England and Beyond
We deliver teaching on the social and historical approaches pathway of the MA in English Language and Linguistics, and can offer specialist supervision in a wide range of areas in the history of English, historical linguistics and the history of linguistics.
Further information about research in language change and history can be found via our individual research pages:
A world-class university – a unique student experience
Sheffield is a research university with a global reputation for excellence. We're a member of the Russell Group: one of the 24 leading UK universities for research and teaching.