Medieval and Early Modern
Research within the School of English is almost unique within the UK for its detailed and comprehensive coverage from the fifteenth century to the Restoration, in addition to Anglo-Saxon and the Middle Ages.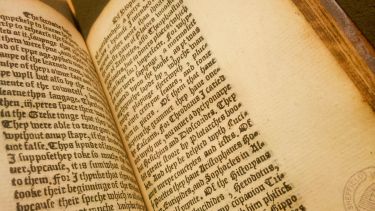 The genres we study encompass prose, poetry, and drama, as well as fictional and non-fictional forms, such as news, letters, sermons, and political pamphlets.
Collectively, we are interested in scholarly and digital editing, the transmission of texts (in manuscript and print), identity construction (be that in terms of politics, religion, place and space, language, nation, networks, or communities), and interrogating both canonicity and periodisation.
The range of our activities is represented by some of our conferences, which include:
'The annual meeting of the International Margaret Cavendish Society' (2007)
'EMBlazoned: Body Bits and Clothing Parts in Early Modern Culture' (2008)
'Literature, Medicine, and the Law' (2009)
'Beyond Belief: The Bible and Humanities Curriculum' (2012)
'Early Modern Manuscript Identities' (2012) 
Current research projects supported by external funding include:
Florence Hazrat - Pause for Thought: The Role of Brackets in Experiencing Renaissance Literature
Translating Utopia
The research cluster is also home to:
Tudor Symposium (an international network of scholars interested in the long sixteenth century)
The University of Sheffield Death Group (contact n.a.hallett@shef.ac.uk).
Postgraduate teaching and research
Our PhD and MA students are an integral part of our research community. In addition to the School of English research seminars, staff and students also participate in the Early Modern Brown Bag Seminar (a work-in-progress meeting, held monthly during term time), the Early Modern Discussion Group (an interdisciplinary forum), and the Modern and Ancient Research Seminar.
Recent and current PhD topics include:
Productions of Shakespeare's A Midsummer Night's Dream in post-World War II Poland;
The letters and lives of early modern nuns in exile;
scholarly editions of early modern miscellanies (the Burley MS; V&A MS Dyce 44; British Library Harleian MS 7392.2; British Library Additional MS 36529);
Bastardy in Shakespeare's plays;
Representations of Cardinal Wolsey, from Skelton to Shakespeare;
Elizabeth I's language;
The Old English translation of Bede's Historia Ecclesiastica;
The transmission and use of charms in Anglo-Saxon England and beyond.
The Early Modern pathway through the MA in English Literature offers students the opportunity to study a broad chronological range of literature, from the medieval to the Restoration, whilst simultaneously pursuing their own enthusiasms, and assessments are specifically designed to allow students to follow their individual research interests.
We also provide essential research skills, including training in palaeography (reading early handwriting) and book history.
Students from a Language and Linguistics background might also be interested in the MA in English Language and Linguistics.
Further details of our MA teaching 
Further information about research before 1700 can be found via our individual research pages: