The Depiction of the Black Experience on the Digital Screen
The history of oppression and marginalisation toward Black people is a topic that deserves acknowledgement and recognition. Many television shows and movies dedicate themselves to raising awareness of the black condition through honest, sometimes brutal, and unflinching portrayals of black lives.
Off
However, in a paradoxical irony, these shows have in some ways actually contributed to the problem modern-day black people experience, due to the fact that they disallow black people to partake in escapism. The black experience has been put under a microscope of good intention, but the outcome is that the common belief is that black stories cannot be told unless they depict strife or try to raise awareness. Black characters are commonly slaves, mistreated by white people, come from abusive, broken homes, or are subjected to violence. Black trauma has become commodified, monetised, and marketed toward non-black audiences under the guise of progression. What writers and directors fail to understand is that by producing content for non-black audiences in which black trauma is the focus, black audiences are thereby prohibited from consuming media about them, without having to face their trauma consistently. 
Violence, hate crimes, marginalisation and microaggressions are the lens through which black lives can only be viewed. Producers inadvertently create the perception that black lives are not interesting without pain and trauma. Black viewers are rarely given a space for escapism and relaxation; white audiences are widely awarded shows such as The Office, Friends, The Big Bang Theory and Parks and Recreation, whereas shows which depict black joy are few and far between. As a black person myself, it is exhausting to constantly watch shows and movies in which people who look like you are depicted as victims, or routinely abused; these pieces of media are not written for you or with your needs in mind, but rather showcase how non-black audiences think black lives are like. Black people, much like everyone else, need escapism and humour and want light-hearted shows with characters that they can live vicariously through. 
Therefore, I have compiled a list of my favourite pieces of media which depict the black experience through a light-hearted lens. Where black people experience love, joy, heartbreak, and growth much like everyone else, and the mistreatment of their race is not the focus of the storyline. 
My Favourite TV Shows
Abbott Elementary | Comedy, Sitcom. 
One of the newest shows on television at moment, Abbott Elementary has already amassed widespread acclaim as people are appraising the show for its sitcom-style humour, loveable cast, and realistic storylines. The show centres around an elementary school in Philadelphia which is wildly underfunded, but the teachers of Abbott refuse to allow their students to want for anything as they navigate being the best teachers they possibly can with the little resources they have. The show is brilliant, incredibly funny, light-hearted, heartful and has a cast that has incredible chemistry with one another. 
Seasons: One, ongoing.
Insecure | Comedy, Drama 
Created by Issa Rae, Insecure is a super funny, incredibly immersive, and an honest look into the romantic and professional lives of black women. The show follows Issa, a woman working in a non-profit organisation, living with her long-term boyfriend and at a crossroads in her life. Does her career fulfil her, and is her relationship with her boyfriend more stifling than it is thrilling? Alongside Issa's story is her best friend Molly, who has a thriving career but struggles in her dating life as her love life is a point of contention. The show follows these two women as they explore dating, career battles and friendship as black women. 
Seasons: Five, finished.
My Favourite Movies 
Soul | Comedy, Animation, Drama, Fantasy 
Soul is an exploration into the meaning of human existence and what it means to live an impassioned life. The movie follows Joe, an aspiring jazz artist with dreams of playing for a living. Joe's dreams are, however, brought to an abrupt halt when he dies unexpectedly. Unwilling to die without seeing his dreams come to fruition, Joe sets on a journey to be given another chance at life, alongside 22, a spirit who refuses to be born at all. The movie is beautifully animated and the story is resonate. Soul provides a gentle lens into human existence and showcases the beauty in life amongst the strife. 
Miss Juneteenth | Drama 
Miss Juneteenth is a movie about motherhood, the black experience and growth; both in adolescence and adulthood. The story focuses on former Juneteenth winner Turquoise, a single mother who had to drop out of school when she fell pregnant with her daughter. Now fifteen herself, Turquoise sets into motion her plans to get her daughter to win the pageant and achieve the dreams she never had the opportunity to. This movie finds its strength in its exploration of the tentative relationship between mother and daughter and letting go of the past. Fans of Lady Bird would particularly like this movie. 
Other Recommendations 
TV Shows:
● Chewing Gum 
● A Black Lady Sketch Show 
● Girlfriends 
● Living Single 
● She's Gotta Have It 
Movies: 
● Princess and the Frog 
● Girl's Trip 
● Black Panther 
● Spiderman: Into the Spiderverse
● Little
---
Written by Valentia Adarkwa-Afari, Digital Student Ambassador, on 21 April 2022.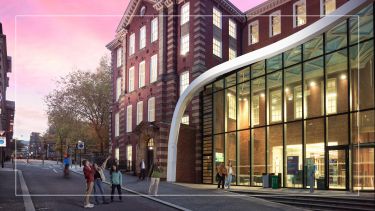 Visit us
Discover what sets Sheffield apart at our undergraduate open days on the Saturday 21 October or Saturday 18 November.