We are proud to offer research-led teaching in English at the University of Sheffield. All of our teaching staff in the School of English are active researchers, and our research informs our teaching.
Off
In this talk, Jane Mulderrig from the School of English talks about our research in Applied Linguistics.
---
Here are some further examples of the current research interests of some of our staff, and how these interests contribute to their teaching.
---
Ethics, symbolics, and the portrayal of animals in film
Professor Robert McKay's research focuses on the representation of animals and the ethics of animal-human relations in literature, film and culture since 1945. More broadly, his work contributes to the interdisciplinary field of Animal Studies, which involves theorising and understanding the importance of animal life; an intellectual project that both needs and poses an epochal challenge to both literature and the humanities.
All of this ties into one of Robert's final-year modules titled No Animals Were Harmed in the Making of this Module: Animals in Film. In this module, students explore major aspects of animals in film by analysing a range of key animal films, considering the diverse stylistic and formal techniques used to portray animal lives, the range of literal and symbolic ways animals appear in film and the ethics of film-making.
Assessment on Robert's module feeds directly into the ZooScope, a collaborative research project and encyclopaedia of animals on film. Each article includes information and analysis about the presence and meaning of animals in a given film.
Further reading:
---
Analysing speech in everyday conversation
All of Dr Gareth Walker's research to date has been directed at trying to reach a more complete understanding of how we use linguistic resources when we are engaged in standard, everyday conversation. His research combines Conversation Analysis (CA) with techniques of auditory and acoustic phonetics.
This ranges from topics such as turn-taking and simultaneous conversation, all the way through to analysing the speech of people with epilepsy and non-epileptic seizures and people with mild cognitive impairment. Gareth is currently involved in research into the speech of people with dementia.
Students have the opportunity to deepen their understanding of how conversation is structurally organised on Gareth's final-year module. Conversation Analysis provides students with recordings and transcriptions of real conversation, with which they work towards identifying linguistic-sequential phenomena in data using specialist software.
---
Language, adolescence, and the social meaning of syntax
Professor Emma Moore's research explores how individuals and communities use language to construct social styles, differences, and affiliations. She has had a long-term interest in challenging the views of the language of young people in areas which are considered to be deprived, which has lead to her involvement in various projects, including working with local youth clubs, civic partners and practitioners in Sheffield.
In one project, Emma has focused on challenging primary school educational policy in order to answer questions about the relationship between a child's dialect and their success at school. In another, she is aiming to expose the problems with current methods used to teach children Standard English grammar at Key Stages 3 and 4, by examining data to examine how children exploit grammatical variation to communicate affiliations, attitudes, and stances.
In the second year, Emma runs a module called Sociolinguistics, which gives students the opportunity to explore answers to questions such as, "Why do working-class people use more localised language features than middle-class people?", and "How does our ethnicity affect our linguistic repertoire?". There's plenty of opportunity for data analysis, allowing students to apply their own knowledge about phonetics, morphosyntax, discourse and semantics in relation to Emma's current research projects.
---
A text-world approach to discourse analysis
The development of Text World Theory is the principal focus of Professor Joanna Gavins, the world's leading researcher on text-worlds. The basic premise of Text World Theory is that human beings process and understand all discourse by constructing mental representations of it in their minds. Her development of the Text World Theory framework over the last two decades has been facilitated to a great extent by the exploration of challenging experimental literature.
Joanna is the Director of the Text World Theory Special Collection, housed in the University's Western Bank library, and her monograph on text-worlds, Text World Theory: An Introduction, was published in 2007. She also co-edited a collection of leading-edge research on text-worlds, World Building: Discourse in the Mind, with Ernestine Lahey in 2016.
On the module Text Worlds, which Joanna offers in the third-year, students use research in both familiar and new disciplines such as stylistics, narratology, philosophy, cognitive linguistics and cognitive psychology, to discover what happens in our minds when we produce and receive language. Students dive straight into figuring out how literary language builds fictional worlds and how we become immersed in these worlds, as well as how the context of communication affects the way in which these fictional worlds are constructed.
Further reading: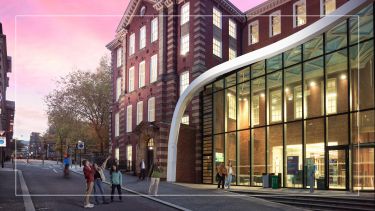 Visit us
Discover what sets Sheffield apart at our undergraduate open days on the Saturday 21 October or Saturday 18 November.