School of Law student shortlisted for Future Lawyer of the Year Award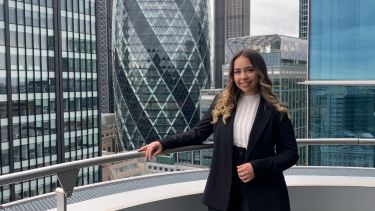 The Undergraduate of the Year Awards are a prestigious competition consisting of 12 different awards, each of which covers the wide range of skillsets and subjects that make up the university undergraduate landscape of today. This year there were almost 4,000 applicants, one of whom was the School of Law's very own Katelyn Groenewald.
Katelyn is a second year student currently studying for her LLB Law, who moved to England at four years old after she was born in South Africa. When she initially applied for the Future Lawyer of the Year Award, she didn't have any expectation of making it to a later point in the process, but once she got through the early stages she found herself eager to progress within the competition!
The awards offered her a chance to recognise her own achievements and find well-deserved pride in her accomplishments as a student and as an individual. Katelyn also mentioned to us how her background as a social mobility student offers important representation on a national stage.
During her time at the School of Law, Katelyn has volunteered at Support Through Court (a pro bono legal clinic), providing legal assistance to those who could not afford legal aid. Her other roles have included Team Lead and ambassador at Wiser Academy, Editor of a commercial awareness newsletter called FirmSnap and Social Secretary of the Edward Bramley Law Society. 
The rigorous selection process for the awards involved a 2000 word initial application, followed by some specific-subject knowledge second stage questions, then finally an assessment centre with a partner at Clyde & Co and a member of graduate recruitment. The assessment centre questions consisted of a range of commercially-driven questions, motivational and competency based questions and scenario based questions. All those shortlisted are given a place on Clyde & Co's insight day and will be fast tracked to a training contract assessment day, as well as receiving a gift voucher.
Upon finding out last month that she was shortlisted as a top-10 finalist for Future Lawyer of the Year Award, Katelyn wrote:
"I am speechless that I have been shortlisted as a top 10 finalist for targetjobUK's Future Lawyer of the Year award in partnership with Clyde & Co. 

I have faced several setbacks along my journey into law, but the one thing that has remained consistent is my strong desire and ambition to become a commercial lawyer. Going through personal hardship has allowed me to develop my emotional intelligence, recognise my strengths and find confidence in my abilities.

Self-belief and hard work has been the driving force behind every step of the application process. It is an honour to have been shortlisted and I am so grateful for such an amazing opportunity."
Another well-deserving finalist, Jack Whittaker from the University of Salford, went on to win the award from a shortlist of ten brilliant candidates. Despite not winning the award, Katelyn was not disappointed and had an incredible time at the awards ceremony, which were presented by actor, broadcaster, comedian, presenter and writer Sue Perkins. We caught up with Katelyn for hear about how the day went.
"My day started at the Clyde & Co office where we networked with trainees and graduate recruitment over breakfast. We then travelled to the awards where we networked with all the finalists and award partners over a champagne reception. The awards were hosted at the East Winter Garden in Canary Wharf which was a gorgeous location!
The rest of the afternoon was spent chatting to various people from Clyde & Co over a three-course lunch. The awards were then presented by Sue Perkins who gave an admirable speech on bright minds connecting and having the ability to "cross-pollinate" your interests and not necessarily "stay fixed in your lane". I think this is so relevant to modern misconceptions about needing to have a designated career based on the degree you do.
Once the awards were presented, we were able to stay at the event to mix with everyone one final time before it finished.
Upon reflecting on my experience of the day, as well as my overall experience of the awards themselves, I have realised there is so much opportunity available. On Friday I was placed in a room with some of the most inspirational creative minds and thinkers which was truly a privilege. Although I did not win, the opportunity provided by Target Jobs and Clyde & Co was truly incredible and I would recommend anyone thinking of applying in the future to do so."
Our congratulations once again to Katelyn, a truly deserving finalist for the Future Lawyer of the Year Award - we can't wait to see what you do next!
A global reputation
Sheffield is a research university with a global reputation for excellence. We're a member of the Russell Group: one of the 24 leading UK universities for research and teaching.