Dr Matthew Bacon
Lecturer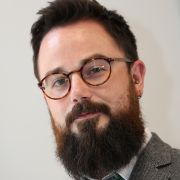 Profile

I was appointed as a Lecturer in Criminology at the School of Law in September 2012, after completing my PhD at the University of Sheffield.

My main areas of research expertise are policing drugs, drug policy (reform), police culture and criminal investigation. For my doctoral research, which was funded by the Economic and Social Research Council (ESRC), I carried out an ethnographic study of police detectives, drug law enforcement and proactive investigation.

Prior to joining the School of Law I worked as a Research Associate at the University of Manchester on a project looking at the contractual governance of drug users in treatment (with Professor Toby Seddon).

I am a founding member of the Sheffield University Policing Research Group (SUPRG), which was set up in 2014 as a forum through which to create and maintain collaborative relationships between policing scholars and practitioners working for South Yorkshire Police and the Office of the South Yorkshire Police and Crime Commissioner.

I am also a member of the N8 Policing Research Partnership (N8PRP).
Qualifications

PhD in Criminology, University of Sheffield
MA in International Criminology (awarded with distinction), University of Sheffield
LLB (Hons), University of Durham

I am a Fellow of the Higher Education Academy
Research interests

Drug law enforcement and innovations in the policing of drugs
Drug policy and practice
Illicit drug use, markets and drug-related crime
Police culture
Discretion and its relationship with the law and other rule structures
Criminal investigation and covert policing
Multi-agency criminal justice partnerships
Evidence-based policing and police-academic partnerships

Member of the Centre for Criminological Research (CCR) and the Cluster for Research on the Informal Sector and Policy (CRISP).

I am happy to discuss potential PhD supervision in my areas of research interest.
Publications

Books

Journal articles

Chapters

Reports
Grants

Title/Description: Policing Drugs in a Rapidly Changing Environment: Challenges, Innovation and Reform

Awarding Body: BA/Leverhulme Small Research Grant 
Dates: 2018-19 
Amount: £10,000

---

Title/Description: Evaluation of Partnership Data Sharing Hub Project     

Awarding Body: South Yorkshire Police Service 
People Involved: Dr Matthew Bacon, Dr Tara Lai Quinlan and Dr David Thompson
Dates: 2016-17     
Amount: £19,224  

---

Title/Description: N8 Policing Research Partnership (N8PRP)

Awarding Body: The N8PRP has secured £7.2 million funding (including £3 million HEFCE Catalyst Grant)
People Involved: I am a key representative from the University of Sheffield and co-lead for the international programme (with Professor Joanna Shapland, Dr Layla Skinns and Dr Adam White). The N8PRP is a group of policing scholars from the eight most research intensive universities of the North. Professor Adam Crawford (University of Leeds) is the Director of the N8PRP.
Dates: 2015-20
Teaching interests

One of the best parts of being an academic is being able to teach students about subject areas that I find fascinating and worthwhile. My approach to teaching is based on the need to inform, inspire and challenge students and this is reflected in the way I approach lectures, seminars and supervision.

I also want them to enjoy the learning experience and make the most of their time at university. I am keen to promote independent learning and treat my students as equals who have interesting and insightful ideas to bring to the classroom.

My teaching is very much informed by my research on policing and drug control policy. This enables me to teach with greater depth and enthusiasm, engage students in contemporary debates and real life issues, and ensure that their learning is up-to-date in terms of research, policy and practice.

Emphasis is placed on helping students develop the skills, knowledge and understanding to make a difference in their future careers.

I use a range of teaching methods and resources to appeal to different kinds of learning styles and to encourage student confidence and participation in classes.
Teaching activities

The modules I teach are:

Undergraduate

Drugs, Crime and Control (Convenor)
Responding to Crime (and Victimisation)
Criminal Process
Introducing Criminological Research
Policing and Policing in a Global Context

Postgraduate

I am Lead Educator for the School of Law's Crime, Justice and Society Massive Open Online Course (MOOC)
Professional activities

Book Review Editor, Policing and Society: An International Journal of Research and Policy
Editorial Advisory Board, European Journal of Policing Studies
Board of Reviewers, Journal of Police Studies
Steering Committee, British Society of Criminology Policing Network