Previous International and European Law Events by SCIEL
Previous events, conferences and workshops held by the Sheffield Centre for International and European Law (SCIEL).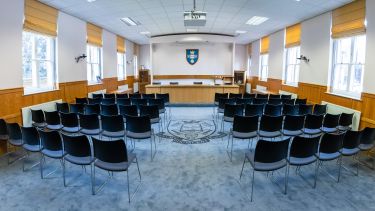 Previous Events 
2019/20

'Rights of Man, Human Rights and Rights of the Governed: An Analysis of the Production of Rights in Michel Foucault's Thought', Professor Marcelo Raffin (University of Buenos Aires): Wednesday 16th October 2019 - Bartolome House, room EG03

This lecture will present an analysis of the critical distinction held by Michel Foucault between "rights of Man/human rights" ("droits de l'homme") and "rights of the governed" ("droits des gouvernés") in order to examine the potentiality and the scope of human rights in the present political arena from a Foucauldian perspective. More specifically, it will develop the distinction between both notions following the Foucauldian position concerning politics and the production of rights, strongly marked in his thought, by the notion of "new right" ("nouveau droit"), as a strategy of resistance and as a "practice of freedom".

'Poland's Constitutional Breakdown', Professor Wojciech Sadurski (University of Sydney): Friday 1st November 2019 - Bartolome House, Moot Court

The speed and depth of anti-democratic changes after the double electoral victory of the Law and Justice Party (presidential and parliamentary) in 2015 took many observers by surprise, as Poland had been widely regarded as an example of a successful "transitional democracy" in the quarter century preceding 2015. The talk by Wojciech Sadurski, based on his recently published book POLAND'S CONSTITUTUONAL BREAKDOWN (Oxford University Press 2019) will attempt to provide answers to three major questions triggered by Poland's anti-constitutional breakdown: what exactly has happened, why it has happened, and what are the prospects of a return to liberal democracy? These answers will be formulated against the backdrop of current worldwide trends towards populism, authoritarianism, and what is sometimes called "illiberal democracy".

Title TBC, Dr Juan Mayoral Diaz (ICourts University of Copenhagen): Thursday 21st November - Bartolome House, Moot Court

University of Sheffield Law & Technology Online PGR Conference 2020 Tuesday, 8th December 09.30 - 13.30

The rise of technology has often outpaced the law, posing new challenges to the development of legal rules. In a world where interconnectedness is more prevalent than ever before, regulating the environment within which many of us operate in is essential. This conference seeks to explore current and new legal implications in the digital world and the way in which the law responds to rapid technological changes that are developing every day.

John G. Merrills Memorial Conference: 'The Changing Character of International Dispute Settlement: Challenges and Prospects' (SLS Sponsored Event)

Dr Marco Longobardo (University of Westminster), 'Due Diligence in International Humanitarian Law', 12 February 2020

Dr Massimo Lando (International Court of Justice), Title: TBC, 6 May 2020

Professor Joanne Scott (European University Institute), Title: TBC, 12 May 2020. SCIEL Annual James Muiruri Lecture

Online Conference: The Peaceful Settlement of Cyber Disputes

Online Conference organised by the Sheffield Centre for International and European Law, University of Sheffield, Thursday 4th March and Friday 5th March.

2018/19

Annual James Muiruri International Law Lecture

The Sheffield Centre for International and European Law named their Annual Lecture in honour of James Muiruri a PhD student in the Centre. James Muiruri was tragically killed in Kenya in January 2009 only a couple of months after successfully defending his thesis.

The Trump Administration and International Law Lecture

The Sheffield Centre for International and European Law will host The Trump Administration and International Law Lecture by Professor Harold Koh from Yale Law School. The lecture will address how the Trump Administration, and reactions to it, have challenged the foundations of modern international law.

Brexit and the Law School

With Lisa Webley (University of Leeds), Tamara Hervery organised a half day workshop on Brexit and the Law School. The workshop was held at the Institute of Advanced Legal Studies in London on 15 October 2018, with the support of the Association of Law Teachers, Routledge, Society of Legal Scholars and Sheffield Law School.

Addressing Human Rights Violations: Repairing Past Wrongs or Looking to the Future?

A lecture by Professor Photini Pazartzis, University of Athens, UN Human Rights Committee (ICCPR)

International human rights law and practice on reparations to victims of human rights violations has been shifting from retrospective to innovative future-oriented remedies. Drawing on recent international jurisprudence, this lecture will discuss this move and its implications in providing justice to victims of human rights violations.

Photini Pazartzis is Professor of Public International Law at the National and Kapodistrian University of Athens and Director of the Athens Public International Law Center of the Faculty of Law of the National & Kapodistrian University of Athens and currently a Visiting Fellow at the Lauterpacht Research Centre for International Law (2017-2018) She is member of the UN Human Rights Committee (ICCPR). She is Vice President of the European Society of International Law and Co-Chair of the ILA Study Group on: The Content and Evolution of Rules of Interpretation.

2017

'The Role of International Courts in Today's World'

A lecture by Sir Michael Wood

What role(s) do international courts and tribunals play in contemporary international relations? The last year has seen increasing recourse to such institutions, including cases against all five Permanent Members of the Security Council concerning such vital matters as nuclear disarmament, the South China Sea, and the Crimea. To what end?

International courts and tribunals play a range of different roles in international relations, beyond the settlement of particular disputes. Sir Michael will draw on his experience of advising the UK and other Governments, in order to assess the potential contribution of international courts and tribunals in the world of 2017.

Sir Michael is a member of the UN International Law Commission. He was the principal Legal Adviser to the Foreign and Commonwealth Office between 1999 and 2006. During 35 years as a lawyer in the FCO, he attended many international conferences, including the United Nations Conference on the Law of the Sea.

He spent three years at the United Kingdom Mission to the United Nations in New York, dealing chiefly with Security Council matters. He was Agent for the United Kingdom for a number of years before the European Commission and Court of Human Rights, and UK Agent in cases before the ICJ, as well as in proceedings before the International Tribunal for the Law of the Sea and arbitral tribunals.

Sir Michael is a member of the International Law Commission of the United Nations and is a senior fellow of the Lauterpacht Centre for International Law, University of Cambridge.

The Tallinn Manual: Responding to Hostile Cyber operations under International Law

A lecture by Professor Michael Schmitt, Exeter Law School

Professor Schmitt directed the Tallinn Manual "International Group of Experts" that produced the Tallinn Manual in 2013, which dealt with cyber war, and Tallinn Manual 2.0 on peacetime cyber operations in February 2017. His presentation will address the question States most frequently ask of those who participated in the Tallinn Manual process: "How may our State legally respond to harmful cyber operations against our government and private entities that are conducted by other States or non-State actors, such as terrorist groups." States regularly struggle with this question, as illustrated in incidents ranging from the Sony hack to interference with the recent US elections. Professor Schmitt will outline how the experts approached the subject, and highlight those issues concerning State responses that remain unsettled in the law.

In addition to serving as Professor of Public International Law at Exeter Law School, Professor Schmitt is the Charles H. Stockton Professor and Chairman of the Stockton Center for the Study of International Law at the United States Naval War College and Francis Lieber Distinguished Scholar at the Lieber Institute of the United States Military Academy at West Point. He is also a Fellow at Harvard Law School's Program on International Law and Armed Conflict, Senior Fellow at the NATO Cyber Defence Centre of Excellence, Senior Research Associate at Hebrew University, and General Editor of International Law Studies.

He serves on many boards of institutions, learned and professional societies, and publications dealing with international law. He is a life member of the Council on Foreign Relations and a Fellow of the Royal Society of the Arts. In 2016 he was appointed to the US Secretary of State's Advisory Committee on International Law.

2016

'Recognition and Enforcement of Human Rights at the International Court of Justice'

A lecture by Judge Julia Sebutinde, International Court of Justice.

Judge Julia Sebutinde is a jurist and has been a member of the International Court of Justice since 2012. She is the first African (Ugandan) woman to be a judge for the World Court. In 1996, she was appointed Judge of the High Court of Uganda. In 2005 Justice Julia Sebutinde worked for the Special Court on Sierra Leone, handling several high profile war crime trials while most notably, responsible for hearing the case against Charles Taylor.
Previous Conferences and Workshops
2018

PGR Community Conference - Contemporary Issues in International and European Law | 1 May 2018

2016

Health Systems and EU Law and Policy | 28-29 January 2016

2015

Conference | Non-State Actors and Responsibility in Cyberspace | 18 September 2015

Workshop | Recent Developments in International Migration | 12 June 2015

Workshop | 60 years of struggle for LGBT human rights | 17 December 2015
A world top-100 university
We're a world top-100 university renowned for the excellence, impact and distinctiveness of our research-led learning and teaching.