Egalitarian Digital Privacy - SICCL author meets readers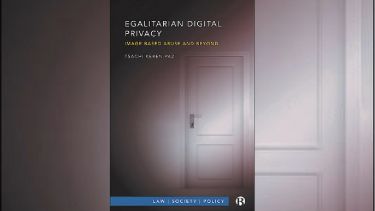 This event is free to attend, online tickets will be provided to those that sign up to our booking page.
---
Description
SICCL is pleased to host this author meets reader event in which Professor Tsachi Keren-Paz (University of Sheffield) will be discussing his recent book Egalitarian Digital Privacy: Image-Based Abuse and Beyond (Bristol UP, 2023).
Book Title: Egalitarian Digital Privacy: Image-Based Abuse and Beyond
Date of event: Wednesday 10 May 2023
Event Time: 4-6pm
Author: Professor Tsachi Keren-Paz (University of Sheffield)
Event Location:
Bartolomé House (Moot Court), Winter Street, Sheffield, S3 7ND
Online - Joining link will be sent the morning of the event
On-campus ticket holders will also get the online booking joining link in case you are unable to join us in person
All SICCL members, staff, students and public members are invited to attend this seminar.
We have been fortunate to be able to bring together a great line up of international scholars to discuss this publication:
Chair: Dr Sally Zhu (University of Sheffield)
Book Synopsis: With a focus on private law theory, the book defines the appropriate scope of civil liability for breach of privacy by platforms and viewers for hosting and viewing non-consensual intimate images (NCII) while critiquing both EU and US solutions to the problem. The book expands the substantial and growing literature and policy discussions around intimate image abuse, by engaging with ways to tackle these forms of abuse beyond the criminal law (the dominant and familiar approach). Through its analysis, the book develops a new theory of egalitarian digital privacy.
The core policy argument in this book is threefold: first, that harm from invading one's sexual privacy is more severe and pernicious than other harms from users' content. As such, it justifies a filtering obligation by hosts, regardless of their size, backed by strict liability for any remaining images and strict liability of those who view these images; crucially, the same is not necessarily true for other user content such as defamatory speech and breach of copyright.
Second, once it is understood that child pornography is a sub- category of NCII, but that the latter involves the same types of harms as the former, the current regulatory gap between the ways the two types of right- violations are treated should be significantly narrowed down. Similar to defences to criminal responsibility for child pornography, promptly deleting unsolicited NCII should prevent civil liability.
Third, hosting and viewing NCII is akin to selling and buying stolen property. Whether the right to privacy ought to be considered as alienable (property) or not, it does not make sense that those who sell and buy it would be in a better position than those who sell and buy personal property. Liability of each viewer should be to a significant amount, but should not extend to the entire loss.
Several old and new regulatory approaches from both the US and Europe are criticised including: immunity to platforms and hosts; limiting hosts' liability to failure to remove images expeditiously after notice; the adoption of a horizontal approach; the stronger protection afforded to copyright holders over victims of breach of privacy; the refusal to criminalise possession of NCII; and the adoption of means-based test for the monitoring duties of platforms.
Linked you will find information on how to save 50% prior to May 31st, and 25% thereafter.
Author Bio: I am the author of three monographs Torts, Egalitarianism and Distributive Justice (Ashgate 2007, 2016 Spanish translation by Marcial Pons' Philosophy & Law series), Sex Trafficking: A Private Law Response (Routledge 2013) and Egalitarian Digital Privacy: Image Based Abuse and Beyond, and I published in English, Israeli, American, Canadian, Australian and Italian legal journals. My first monograph was shortlisted for both the 2008 Society of Legal Scholars Peter Birks Book Prize for Outstanding Legal Scholarship, and the 2008 Hart/Socio-Legal Studies Association Book Prize for Early Career Scholars. I am a grant holder (as Co-I) of Leverhulme Research Project Grant 'FemTech surveillance: Gendered digital harms and regulatory approaches' September 2022 – September 2024; and was previously a Leverhulme Fellow 2016-2018 for the project "Privacy law, gender justice and end users' liability: 'revenge porn' and beyond" and the Principal Investigator of an ESRC Seminar Series grant 2015-2017 "Liability versus Innovation: Unpacking Key Connections". My policy, impact and KE contributions revolve mainly around private law responses to gendered harms. Most recently I was cited in the Law Commission's 2021 Consultation Paper and its 2022 Report on Intimate Image Abuse.
---
Location
53.384237859069, -1.4890185987088
Events at the University
Browse upcoming public lectures, exhibitions, family events, concerts, shows and festivals across the University.