My year abroad with the School of Law

Katie Shuttleworth
Undergraduate student
LLB Law
Our fourth year LLB Law student, Katie, talks to us about her year abroad and how it provided her opportunities for personal growth.
Prior to my application to the School of Law I was interested in the opportunity offered by the university to study abroad, but the idea of committing straight away seemed daunting at the start of my studies. Something I liked about the LLB Law programme is that it allowed me to 'opt-in' to a year abroad in my second year. This suited me so much better because when I reached second year, I was more confident and excited about pursuing the year abroad, so the LLB Law programme is great at allowing students the option and freedom to get involved with doing a year abroad when students feel comfortable doing so.
I went on my year abroad to Vrije Universiteit Amsterdam (VU), in the Netherlands. I was well supported during the application process by both the School of Law and my host university, and I received regular communication about finance, accommodation and visa applications, which reassured me and made me feel well informed about the journey I was about to embark on! This was particularly comforting as it was quite challenging at times to navigate the different hurdles that arose from the COVID-19 pandemic, but the School of Law and my host university provided me with lots of support and helped me with keeping up to date with regards to any travel restriction changes.
Just like the School of Law, the VU had lots of module options to choose from and I even had the option to pick up some courses outside of Law. It was really enjoyable to study law from the perspective of a different jurisdiction and learn about the legal issues that are prevalent within the Netherlands; it was interesting to compare this to legal debates within England and Wales. All of my courses were taught in English and all of my lecturers were extremely welcoming and passionate about helping the international students settle in with the rest of the cohort.
A great thing about doing a year abroad is that outside of your studies, you have the freedom to explore a new country and make fantastic memories. I had never been to the Netherlands prior to my year abroad, and I was able to visit some fantastic sites. I was able to see the beautiful windmills at Zaanse Schans, take river cruises along the Amsterdam canals, and visit the dunes and forests of the National Park Zuid-Kennemerland. It was incredible experiencing a new way of life, in which (it felt like) there were more bikes than people! Cycling everywhere was an amazing and unique experience and allowed me to experience Amsterdam from a different point of view. Furthermore, as I was located only 30 minutes away from Amsterdam Schiphol Airport, I was able to easily arrange a trip to Berlin, Germany. 
Being on my year abroad has genuinely helped me grow as an individual and given me opportunities I just otherwise would not have been able to access. I feel like I have entered the final year of my degree with a better mindset and confidence in myself and for the future. Being able to independently adapt to new surroundings, new ways of teaching and a new way of life has allowed me to feel more prepared in adapting to and tackling challenges. I think this resilience and perseverance will be great qualities with regards to employability.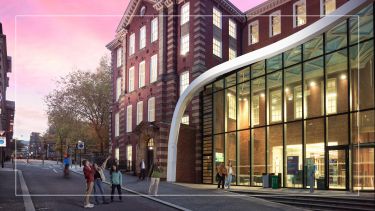 Visit us
Discover what sets Sheffield apart at our undergraduate open days on the Saturday 21 October or Saturday 18 November.