Utrecht: a home away from home
School of Law student Ellie May Cole, who is studying LLB Law (International and European), talks about her amazing experiences on her year abroad in Utrecht.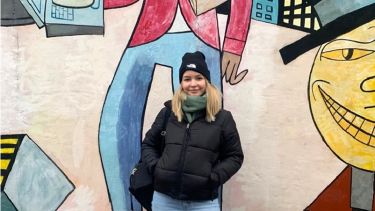 Back in 2020, I was gearing up for a year abroad in Melbourne, Australia, when COVID-19 hit and everything had to be thrown out the window. The School of Law gave me a choice to either take a leave of absence and try for another year abroad one year later or go straight into final year. Choosing to wait was the best decision I have ever made.
This time around, I went back to the drawing board and chose Utrecht in the Netherlands. I had heard nothing but amazing things and I wanted to stay a little closer to home in case there was another global catastrophe waiting around the corner!
One of the aspects I was nervous about was how hard the courses would be and how differently Utrecht University would teach to the University of Sheffield. I had nothing to be worried about, as the courses are all the things I find most interesting – organised crime, human rights, regulation of Big Tech companies and mass atrocities, to name a few. There was such a broad selection that I think there is something for everyone.
The teaching is broken down into half semesters, which I find easier because there is less content to memorise in the exams. But most importantly, the teachers are kind and with a killer sense of humour. After taking a leave of absence, it's been a great way to ease back into my degree and learn some genuinely interesting law in a really supportive and creative environment. As you can tell by the rest of this blog, the workload is not too heavy to enjoy the wonders of Utrecht!
Utrecht is the most beautiful city I have ever been to, and I have fallen head over heels for it! Although I am biased, it is much better to live in than Amsterdam (which is only a half hour train away). You have all the charm of the canals and cycle lanes, but without the relentless tourism and giftshops on every corner. Utrecht somehow feels more authentic and beautiful. It looks like it is frozen in time from the 1930s, but it is in no way 'boring'. There is always something to do!
Every inch of the city is covered in flowers, lights and, of course, bicycles. I never thought I would look forward to a commute, but there is just something unbeatable about cycling in the sunshine alongside your friends.
One thing I was worried about was whether I would like my new housemates. It was like going through freshers again in the sense that you get thrown together with other international students. But I have been truly lucky that they are all wonderful and hilarious. Going through some added COVID restrictions over winter really brought us closer because we spent more evenings together.
We were lucky enough here to see almost all of the COVID restrictions be lifted just in time for 'Carnaval', a holiday celebrated in the south of the Netherlands. It is absolutely bonkers and brilliant. We took a short train to the city of Tilburg for the weekend to experience it. You can either wear the city's traditional colours or a costume. Every person takes part and dresses up – we saw babies in tiny bear costumes! This was probably the best part of my stay so far as it felt like a mash up of a festival and a parade (or UXD in Sheffield)!
I think the key to a year abroad is being bold enough to just say yes. Being back in the EU this year has opened up so many new travel opportunities and I've tried to really make the most of it. From travelling to Berlin, Dublin, Brussels, Madrid and Paris, I've seen more of Europe in the last year than I have my entire life!
You can very easily get into an international bubble but making friends with local Dutch people has been amazing. I've made friends for life, from all over the world, and ironically with other Sheffield students! If you're on the fence about choosing which university to go to, or are at Sheffield already and are thinking about a year abroad, this is your sign to go and experience the world in a different way.