Mrs Saioa San Miguel Bell
MSc
Doctoral Researcher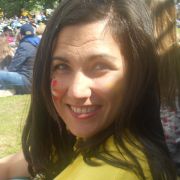 ect12ss@sheffield.ac.uk
Sheffield University Management School
Full contact details
Mrs Saioa San Miguel Bell
Management School
Sheffield University Management School
Conduit Road
Sheffield
S10 1FL

Profile

6th year part time PhD Researcher in Sustainable Transitions and Green Urban Development by The University of Sheffield and MSc International Business with industry experience in international projects as a Project Manager with international organizations such as HSBC, ArcelorMittal and General Electric. Teaching experience delivering tutorials in International Business and Strategic Management and research project management as a Research officer of the Logistics and Supply Chain Management Research Centre at The University of Sheffield working closely with Professor Lenny Koh in Sustainability and Environmental projects and consultant experience for the Sheffield City Region Leadership Programme. Research Associate in Sustainable Development and Degrowth with The Hegoa Centre at The University of the Basque Country in Spain with aI international collaborative research in Sustainable Economics with The University of Sheffield and The University of Basque Country.
Qualifications

MSc in International Business
Humanities and Business Management
Research interests

Environmental Sustainability
Symbiotic Systems
Sustainability Transition Theories
Professional activities

International Project Manager
Conferences

International Sustainability Transitions Conference (2018). Presentation: "Paradigm Shift and Transition Theory: Opportunities for Transformational Change into Intrinsic Sustainability". The University of Sheffield.

Sustainability White Rose Doctoral Training Centre Pathway Conference (2015). Presentation and Best Academic Paper: "Business Management in the New Emerging Ecological Civilization. Paradigm Shift and Transition Theory". The University of Sheffield.