SDG11: Sustainable Cities and Communities
We are preserving Sheffield's heritage and culture, alongside developing sustainable infrastructure, transport and new work opportunities for the city.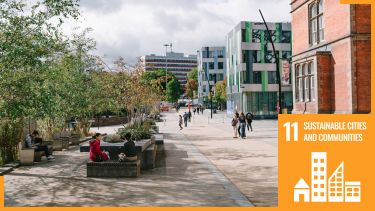 On
With the number of people living within cities projected to rise to 5 billion by 2030, the need to manage rapid urbanisation and its associated impacts is apparent. 
Key facts for how we are achieving SDG11
26 grade II listed buildings owned and maintained by the University
2600 bike parking spaces around campus
36% of staff and 80% of students regularly walk or cycle to campus
57% of university vehicle fleet is electric reducing our carbon emissions
Sheffield is one of the greenest cities in the country, with over 4.5 million trees, 250 public parks and 52 square miles of the Peak District National Park in its vicinity
Documents found in a time capsule laid under the foundation stone of First Hall in 1903, recovered during building work in 2003 with the text: "The University must, moreover, be a part of the city life, reciprocally strengthening it and strengthened by it – open to all, guiding all branches of education, and stimulating all intellectual efforts"
Lectures, industry events, concerts and podcasts are happening across the city, sharing knowledge and culture around the University and beyond
Culture Across Sheffield
The University of Sheffield was founded by the people of the city. It's easy to see how Sheffield's history of industry, especially steel production, has fed into the University's work on engineering and materials science, but the ideas flow in the other direction too.
The Roots and Futures research project aimed to inspire the diverse communities local to northern Sheffield to share stories of nearby heritage and what makes their local areas meaningful to them. Parts of northern Sheffield are in the top ten per cent of the UK's most deprived areas, while other parts are rapidly growing thanks to the arrival of new apartment blocks. Through surveys, outdoor events, virtual exhibition access and an app that allowed users to upload photos and share memories, the Roots and Futures project worked with local community groups and museums to help locals engage with Sheffield's heritage. This research also highlighted ways in which some groups are underrepresented in current showcases of Sheffield's history and culture, providing vital information on how to improve in the future.
Sharing the University's heritage

Items linked to Sheffield's cultural and research history are spread throughout campus, forming the University's Heritage Collections. Artefacts include paintings and sculptures, architectural drawings of University buildings and other areas of Sheffield and the UK, scientific objects, and medals presented to University alumni.

Inside the University's first purpose-designed building, Firth Court, twelve portraits from the Heritage Collection are on display. The collection includes almost a hundred portraits of academics and prominent Sheffield figures, however those on display in Firth Hall have been specially selected to inspire future generations and leaders.

Adjacent to Firth Court is the Alfred Denney building. Named after the University's first biology professor, it contains the Alfred Denney museum, a collection of around 6,000 zoological specimens from around the world. Many of which are extinct or endangered species. Students and researchers regularly use the Alfred Denney museum for zoological research, and members of the public can book to take guided tours of the collection.

The Turner Museum of Glass features a comprehensive collection of 19th and 20th century glassworks, based on the personal collection of Professor of Glass Technology W. Turner and is open to the public for tours.

Drama at Sheffield

Glossop Road Baptist Church was acquired by the University in 1970 and remodelled into the Drama Studio, a theatre and performance venue. The building still retains many of its original features and is Grade II listed. Hosting a range of events, the Drama Studio welcomes university members and the public.

During the Covid-19 pandemic, the University's Performer and Audience Research Centre (SPARC) led a cross-faculty research project to investigate how local artists and performers were impacted by the restrictions. SPARC helps local musicians and artists to collect and analyse data on their performances, audiences and venues and use it to sustain and develop their audiences. This in turn helps to foster community through local music.
---
Western Bank Library

Opened by T.S. Eliot in 1959, Western Bank Library was built to accommodate rising student numbers following the Second World War. Faced with Portland stone and designed in a modernist style by London-based architects Gollins Melvin Ward, it is a Grade II* listed structure. Western Bank was the first library in the UK to be designed with facilities for temperature, humidity and filtered air control.

In 2010, a £3.4million refurbishment project updated user facilities and reinstated original features, including the marble-walled Exhibition Gallery. The windows were reglazed with high-performance glass to improve the building's energy efficiency, and modifications were made to make Western Bank more accessible to disabled users.

Western Bank continues to be accessible to a wide range of users; it is one of two University of Sheffield Libraries (alongside the Health Sciences Library) to offer access to the general public. Anyone can register to access both libraries during staffed hours for ten months per year. Members of the public can read books including those in the National Fairground Archives and Special Collections, access the internet, and use photocopiers and scanners. Western Bank Library also hosts temporary exhibitions, which anyone can visit.

Heritage buildings

There are around 40 heritage buildings spread across the University's campus, including repurposed buildings for modern use, such as former hospitals now housing the School of Law and the Department of Music. Several buildings designed specially for the University also have listed status to preserve their role in Sheffield's heritage, including Firth Court and the Arts Tower. 

As part of its work maintaining heritage buildings to meet today's needs while preserving original features, the University has undergone several big renovation projects to ensure buildings are accessible to all. A great example of this is the Central Wing, built in 1885 as the Sheffield Technical School and refurbished in 2020, now stands the Engineering Heartspace.
---
The University campus is a collection of new and older buildings, joining modern innovation with heritage through redevelopments and re-landscaping. One example is the sewer gas lamp on the corner of Victoria Street. This listed structure once burned gas to illuminate the street and dispose of harmful emissions from a nearby sewer. Now, it is powered by solar power, and serves as a link  to Sheffield's heritage infrastructure.
The University continues to modernise campus through the Campus Masterplan, featuring a plethora of sustainability features and solutions for our future campus landscape. Some of which include greater pedestrianisation for walking and cycling and ensuring students, staff and members of the public can move between areas of the campus safely and easily. To incentivise walking and cycling, you can sign up for free to the BetterPoints app allowing users to collect points every time they walk or cycle, which can then be traded in for hot drinks or donated to charity.
---
Working with less developed communities
With rapid urban growth comes greater demand on essential resources from healthcare and housing to infrastructure. A research project involving the University of Sheffield, the University of Addis Ababa (Ethiopia), University of Lagos (Nigeria), Makerere University (Uganda), and University of the Witwatersrand (South Africa) explores the the links between urbanisation, migration and violent conflict in nine African countries. 
This research produced can address the key challenges faced in African countries, and can lead to governmental policy changes to tackle social conflicts, inequalities and misplacement, and promote more secure, sustainable and peaceful cities.
Promoting peace 
The University of Sheffield's Professor Simon Rushton and Professor Jefferson Jaramillo at Javeriana University, alongside CORMEPAZ (a Buenaventura-based human rights organisation) collaboratively led on a project to tackle social and economic issues rife in Buenaventura, Columbia. The project addresses the high rates of drug-trafficking, inner-city violence and murder rates amongst other social challenges to ultimately co-develop a city-wide peace strategy. 
Read more about this research project.
Our sustainability strategy
We have set the principles and direction for our sustainability strategy