Katharina's research explores the potential of commons-based economies as spaces for civic resilience.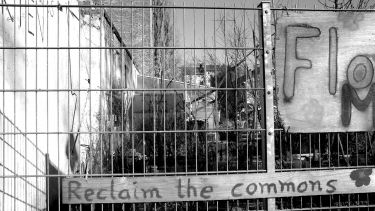 My practice-based research is set in Berlin-Neukölln and considers how commons initiatives can further civic participation and citizen cohesion towards more resilient neighbourhoods. I am interested in finding out how to foster and sustain people's engagement in their communities by showing the rich possibilities a commons-perspective offers for our everyday lives through design and spatial practice.
The commons and their re-building are the leading narrative of this research as a framework for an emergent culture of mutual respect and care amongst agents of self-organisation and cooperation. My research involves interviews with activists and theorists, conversations with local community initiatives and the collaborative development of a local project space called 'Commons Lab'. This lab will explore different spatial notions of the neighbourhood to interact with residents and other stakeholders on different levels in its co-creation.
So far, I have done some reading and writing, visited local events and international conferences, and engaged in an activist group. I have started talking to some of the initiatives in the neighbourhood and conducted a few interviews with economic experts. I aim to publish my research outcomes throughout the process in accessible non-academic ways, so I am thinking of how to edit this into a collaborative zine or exhibition that could take place in Neukölln.