Free part-time English language classes for the partners of degree level students at the University of Sheffield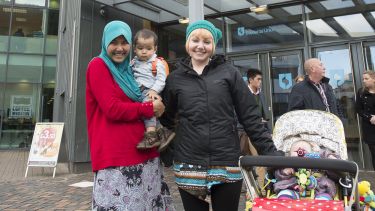 What are Partners English classes? 
'Partners English Classes' are free general English language classes offered to the international partners of fully-registered degree level University of Sheffield students. We consider a partner to be anyone married to, or in a relationship with a current degree level international student at the University. The classes are offered by the English Language Teaching Centre, in cooperation with the University's Students' Union.
During the 2021-22 academic year Partners English will be offered as a blended course with classes delivered online and face-to-face. This will provide students with flexibility and a choice of teaching methods and learning systems.
What levels of classes are there?
There are two levels of classes available - lower-intermediate / intermediate and upper-intermediate / advanced. The classes are friendly and relaxed, with an emphasis on improving spoken English, and are taught by qualified teachers.
Please note we cannot accept beginners.
How will I know which level to attend?
You will take a short placement test with a teacher to check your level of English so we can recommend the right class for you.
When are the classes?
The classes offered in Semester 1 and Semester 2 are held on Tuesday and Friday mornings (3 hours a week). 
Tuesday classes will take place from 9:30am to 11:00am in the English Language Teaching Centre building, situated at 78 Hoyle Street.
Friday classes will be taught online from 9:30am to 11:00am.
Childcare information
In previous years Partners English has offered a crèche service for children aged 1-5 years old.
Regrettably the crèche service will not be available in Semester 1 and 2 2021-22.
A further update on crèche service availability will be provided before Semester 1 2022-23 begins.
To register for Partners' English please complete the application form:
Partners English Application Form
Shortly after completing the form please send a copy of your passport and British Residence Permit (BRP), and a copy of your partner's BRP and blue UCard to eltc.support@sheffield.ac.uk
Please remember to e-mail your documents - if you do not send your documents you will not be allowed to register for the course!
After you have completed the application form and submitted your documents via e-mail, we will contact you to invite you to a registration event for the course.
Please note: spaces are subject to availability - you may be placed on a waiting list.
What should I do if I have any other questions which aren't answered by this webpage?
A world top-100 university
We're a world top-100 university renowned for the excellence, impact and distinctiveness of our research-led learning and teaching.