Free part-time English language classes for the partners of degree level students at the University of Sheffield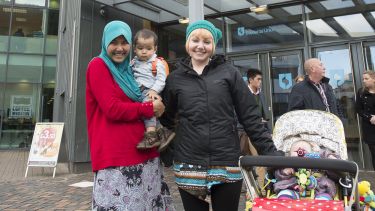 What are Partners English classes? 
'Partners English Classes' are free general English language classes offered to the international partners of fully-registered degree level University of Sheffield students. We consider a partner to be anyone married to, or in a relationship with a current degree level international student at the University. The classes are offered by the English Language Teaching Centre (ELTC), at 78 Hoyle Street.
What levels of classes are there?
There are a number of different groups so students can be placed in a class according to their experience and/or level of English. The classes are friendly and relaxed, with an emphasis on improving spoken English, and are taught by qualified teachers.
Please note we cannot accept beginners.
How will I know which level to attend?
Before the course begins you will complete a short form where you will answer some questions in English. A teacher may conduct a short interview to check your English needs and spoken English. We use this information to place you into the most appropriate class. The classes are divided by level (for example pre-intermediate, intermediate and upper-intermediate). 
When are the classes?
Classes are offered throughout the year from September (Semester 1) until June (Semester 2). Your registration will be valid from the date you register for the rest of the academic year.
 
Classes take place twice a week (Monday and Friday 9.30am - 11:00am). Each class is 90 minutes. Both classes are conducted face to face in classrooms at Hoyle Street. When you arrive for class the reception team will direct you to the specific classroom and there will be notices that will show you the way. You will also be sent an email after registering with the class joining instructions.
Registration for Partners English is currently closed. Please check back closer to the start of the 2022-23 semester for a link to the application form.
After completing the application form please send a copy of your passport and British Residence Permit (BRP), and a copy of your partner's BRP and blue UCard to eltc.support@sheffield.ac.uk
Please remember to e-mail your documents - if you do not send your documents you will not be allowed to register for the course!
After you have completed the application form and submitted your documents via e-mail, we will contact you to invite you to a registration event for the course.
Our next registration event will take place in Intro week (week commencing 26th September). The registration will take place in the Student Union building and this will complete your registration (for example you will have your identification checked and receive your Ucard). Please check the website regularly for further updates about the exact location and times.
Please note: spaces are subject to availability - you may be placed on a waiting list.
What should I do if I have any other questions which aren't answered by this webpage?
A world top-100 university
We're a world top-100 university renowned for the excellence, impact and distinctiveness of our research-led learning and teaching.