Two globally renowned artists visit the School of English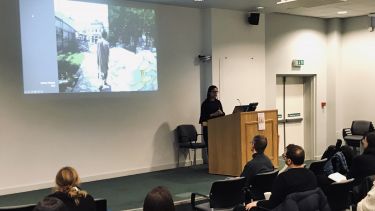 Two globally renowned artists, Mahwish Chishty and Tomas van Houtryve, visited the School of English this week. Following a film screening of the drone documentary National Bird (2016), they participated in a panel discussion in dialogue with Dr Beryl Pong from the School of English, Dr Ross Bellaby from the Department of Politics, and the audience at the Curzon Cinema. Chishty and van Houtryve also gave two separate talks on their artwork, which was well attended university wide. A staff member from the Department of Physics expressed that the overall event was "absolutely fascinating, important and valuable."
Dr Pong stated: "we are at the dawn of the drone age: civilian and military drone use have started to blur, and drone technology is becoming increasingly commonplace and unremarkable. As the popularity of these events show, there is a tremendous amount of interest and need to understand not only the military origins of this technology, but its implications for the future of warfare in general. I received extraordinary feedback from a lot of people who told me how important these events were. Mahwish's and Tomas's art really stuck with them."
Funded by the British Academy Rising Star Engagement Award, these talks were part of The Aesthetics of Drone Warfare project. The British Academy Rising Star Engagement Award aims to promote cross-disciplinary dialogue between academics, artists and creative practitioners and the general public.This year, 23 early-career researchers were awarded, and Dr Pong was one of the recipients. She explained that aesthetics is a key problem for drone warfare, where art is deeply implicated, as it is predicated on developments in aerial imagining. Further, there is a prominent artistic response as well: visual and multimedia artists have been thinking about what drone warfare means and what it might portend for contemporary society. The Aesthetics of Drone Warfare conference will be held at the University of Sheffield in February 2020.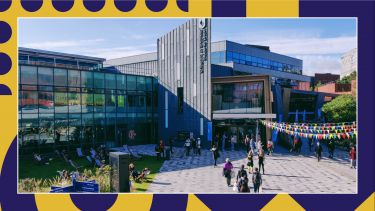 Advance Register for Clearing
We have places on our undergraduate courses this autumn. If you've already got your results you can apply now, or if you're still waiting for results get your name on the list by advance registering.