My International Women's Day Hero: Joyce Gutteridge CBE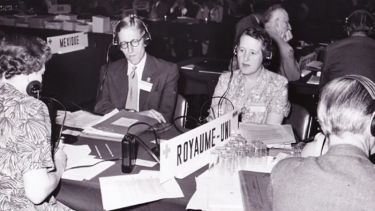 On International Women's Day, it feels especially pertinent to consider the importance of drawing realistic portraits of women in history who have been trailblazers in their own areas of expertise, and law as a field is certainly not short of incredible women who have done pioneering work to improve the world we live in. Joyce Gutteridge CBE is one such figure, and acting not only to make changes to laws on land, but during her time as an international lawyer also worked on large parts of the Law of the Outer Space (just emerging at the time), and became a global authority on the Law of the Sea. She worked at first as a legal adviser at the foreign office (the first woman to take this role), and became the most senior woman member of the Foreign Service. Amongst her achievements include acting as the UK's representative on the Continental Shelf Committee, working on the UK mission to the UN as a Legal Counsellor, and helping to draw up the Geneva Convention (Red Cross).
Below, Luiza Leao Soares Pereira, Lecturer in International Law, has written a short piece about Joyce Gutteridge CBE, that acts as a blurb for her recently publicised SSRN chapter in an upcoming book entitled 'Portraits of Women in International Law: New Names and Forgotten Faces' (ed. Immi Tallgren, OUP).
In honour of International Women's Day, I would like to publicise a contribution made to the upcoming book edited by Dr Immi Tallgren (University of Helsinki) - 'Working From 'Rooms of Their Own': For a Realistic Portrait of Joyce Gutteridge CBE and Other Trailblazing Women' (in Portraits of Women in International Law: New Names and Forgotten Faces? (OUP, forthcoming)).
The 'portrait' depicts the first woman Legal Adviser to the UK Foreign Office, Joyce Gutteridge CBE. The piece explores Gutteridge's fascinating biography, drawing from her obituary in the British Yearbook of International Law, as well as interviews with some of her colleagues. She represented the UK in diverse areas, such as during the drafting of the Geneva Conventions on the Laws and Customs of War, as well as the UN Committee on Peaceful Uses of Outerspace.
While shining a light on Gutteridge's accomplishments and career, providing some evidence of difficulties she and women like her found along the way, the piece also reflects on structural reasons why some women managed to ascend to relatively prominent professional positions that remained unavailable to their contemporaries. Looking at legacies such as Gutteridge's through a prism of intersectionality, the piece supports the drawing of 'realistic portraits' of women occupying prominent positions in history.
Read a preview of the chapter here, and keep your eyes peeled for Immi's fascinating book that will not only reveal the roles of lesser known women in international law, but help paint a more complex, layered landscape of gender in the discipline's professional echelons. 
Luiza Leao Soares Pereira, Lecturer in International Law
A world top-100 university
We're a world top-100 university renowned for the excellence, impact and distinctiveness of our research-led learning and teaching.