Dr David Hayes
Lecturer
Deputy Director of Postgraduate Research
Programme Director, LL.B. Law and Criminology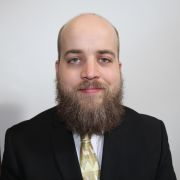 Profile

This role is my first academic post, which I took up in September 2014, after completing my PhD at the University of Nottingham. 

My research focuses upon the politics and philosophy of criminal punishment, and particularly community penalties. I am particularly interested in penal severity, and how we measure how 'tough' a particular sentence is, relative to other types of penalty.

My first monograph, Confronting Penal Excess: Retribution and the Politics of Penal Minimalism, was published by Hart in 2019.
Qualifications

PhD 
MA Socio-Legal and Criminological Research, University of Nottingham
LLM Criminal Justice, University of Nottingham
LLB(Hons) Law, University of Nottingham
Research interests

My research clusters around three key overlapping and intersecting themes (given here in no particular order):

1. Measuring Penal Severity: 

My research aims to explore the possibilities of introducing greater subjectivity and recognition of difference into the measurement of penal severity by academics, policy-makers, and sentencing authorities.

It confronts the challenges of recognising difference without compromising our ability to compare and contrast individual cases with one another, in ways that complex human systems can deploy as simply, consistently, and justly as possible.

2. Retribution and the Penal Minimalism: 

Retributivism sells its penal philosophy in part on the basis that its focus on proportionality encourages penal minimalism and respect for individual freedom.

However, since the 1990s, as retributive theories have become more deeply ingrained in penal decision-making, penal systems have only tended to grow bigger and more intrusive.

This project explores this phenomenon, asking to what extent retributivism can be blamed for this 'penal excess', and constructing a new approach to retributivism that pursues penal minimalism more thoroughly.

3. Law as Mythology:

In this project I argue that laws play many similar functions in modern Western societies that mythology played in pre-modern ones.

Adopting a 'mythic account' of law enables an analysis of the irrational as well as rational foundations of the rule of law, opening up the former 'irrationales' as an area for public discourse.

It also enables a greater appreciation of the relative strengths and weaknesses of the (hierarchical and totalitarian) rule of law as against its radical alternatives, which tend to be ignored altogether in legal theory, and dismissed out-of-hand as utopian fancies in wider social research.

I am best placed to supervise PhD students in the following broad areas:

Criminal Law Theory
Penal theory and the philosophies of punishment
Punishment in society - Criminal punishment as a socio-political phenomenon

I also welcome interdisciplinary students from political and philosophical fields whose projects involve a criminal-legal or criminological element (or vice versa).
Publications

Journal articles

Book reviews
Research group

I am a member (and Co-Assistant Director) of the Centre for Criminological Research.
Teaching interests

For me, the study of law and criminology is about preparing the student for 'critical citizenship' – that is, to go into life after graduation prepared to think carefully for oneself and weigh up the costs and benefits of different political and personal choices on an individual, community, national and indeed international level.

In my teaching, I therefore try to emphasise the way in which criminal justice is contingent upon its social, political, and cultural contexts. My teaching also focuses on understanding theoretical components of law and justice, and how they link different topic areas together.

In my role as a Personal and Academic Tutor I encourage students to reflect upon their strengths and weaknesses, and to think about legal and criminological phenomena outside of and across modular and disciplinary boundaries.
Teaching activities

Undergraduate:

LAW135 Criminal Law and Justice.
LAW208 Advanced Criminal Law and Justice.
LAW217 Punishment and Penal Policy.
LAW307 Criminal Evidence.

Postgraduate:

LAW6907 Issues in Comparative Penology.
LAW6410 Theorising Punishment in a Global Perspective.
Professional activities

I am a member of the European Society of Criminology (ESC), the Socio-Legal Studies Association (SLSA), and the network for Empirical Research on Sentencing (ERoS).

I am on the Editorial Board of the journal Incarceration.

Recent Invited Papers and Keynote Lectures

'Factors Influencing the Severity of the Pains of (Supervised) Community Punishment in England and Wales: An Over-Descriptive Overview', European Society of Criminology Working Group on Community Sanctions and Measures, Sheffield, UK (June 2015);
'Pain and State Punishment: Identifying Punishment and Penal Severity in a Community Context', Society of Legal Scholars Annual Conference, York, UK (September 2015);
'Penal Excess and Subjective Impact: Prospects for Retributivism in Modern Penology', European Society of Criminology Annual Conference, Muenster, Germany (September 2016).