Incoming exchange students
Information for overseas students coming to the University of Sheffield for a semester or a year via our established exchange programme.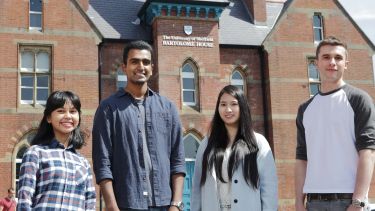 How to apply 
To apply to be an exchange student to the School of Law, you must be nominated to us by your Home Institution. Guidance will be sent to your Home Institution's Exchange/Erasmus Coordinator.
You must have a good level of English to follow lectures and participate in seminars. We will ask you to confirm this in your application.
If accepted as an exchange student, you are expected to be present throughout your period of study and to attend all classes. 
Module choice
All incoming exchange students will be contacted by the Law School about module choices. We will contact you as soon as the list of modules for exchange students is available. You will be asked to fill in a module choice form online by a specific deadline. Please check that the modules you wish to study are approved by your home University.
Your first few weeks in Sheffield
Orientation Week is a week of events and activities to help you find your way around Sheffield, meet other new students and adjust to life in the UK. The week is packed full of opportunities to meet new people, get useful information, sort out important tasks (like opening a bank account, or finding a place to live) and have fun! 
The School of Law usually holds an Activities Fair at the start of Semester 1, where you can find out about departmental societies and pro bono volunteering opportunities.
Further information
If you are a prospective overseas exchange student and would like to know more about the School of Law exchange programme, please contact us.