Tai Chi, music and calligraphy | 语言和文化学校成人部- 文化课程
The Confucius Institute offers 12-week cultural courses - Tai Chi, Chinese Zither (Gu-Zheng) and calligraphy, for all.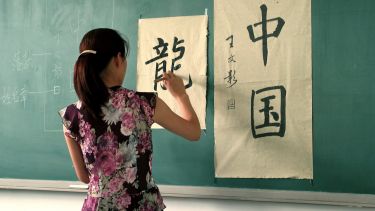 Please note, due to the ongoing COVID-19 pandemic, these courses are currently on hold. Future dates are yet to be confirmed.
---
All courses are offered twice a year, following the University Semester Dates.
The course allows you to learn, practise and master some basic moves of Tai Chi, a martial art form that is extremely popular both in China and abroad.
As a typical daily exercise for many Chinese, this calm yet powerful training is well known for its beneficial effects on health, coordination and the ability to focus.
Please wear loose and comfortable sportswear, including trainers, and bring a bottle of water. Inform the course Instructor about any health issues in advance.
Time: Previously on Sundays 4:30-6:30pm.
Venue: Workroom 1 (G04), the Diamond, 32 Leavy Greave Road, Sheffield S3 7RD
Fees: £72
Registration and payment at the University Online Store, search for "Tai Chi".
Instructor: Paul Thompson started leaning Wu Style Tai Chi 30 years ago. He went to China in 1996 in order to trace the founder of the neijia martial art of Wu-Style Tai Chi- Mr. Wu Jianquan.
He has met Master Wu's daughter Wu Yinghua and her husband Ma Yuehliang, both were famous Tai Chi teachers.
Since 2012 he has been visiting China every year and learn from master Ma Changxun in Beijing. Paul has been teaching Tai Chi in the UK for 22 years.
---
Immerse yourself into a world of Chinese traditional music and enjoy the hauntingly beautiful Guzheng (which is a 21-stringed Chinese plucked zither).
Learn to read Chinese music notations/scores, get introduced to the main Chinese guzheng performance styles, practise the basic playing techniques and enjoy a guzheng performance.
No prior knowledge about music or Chinese language is required. Guzheng instruments will be provided during the class. Places are limited to two people per class, with separate classes for adults and children.
Time and date set individually: 1h/w, normally on a weekday after 5pm.
Please contact confucius@sheffield.ac.uk or +44 114 222 8447 to state your preferred time, an we will try to accommodate you - your timetable will be confirmed with you in person.
Venue: the Confucius Institute Office, 2 Palmerston Road, Sheffield S10 2TE.
Fee: £10/h, total £100 per 11 sessions (the first session is FREE).
Registration and payment at the University Online Store:
---
Chinese Calligraphy course requires no prior knowledge of Chinese language or Chinese writing skills.
About: You will practice the basics of Chinese calligraphy and get introduced to the main Chinese calligraphy styles, and learn more about the cultural and historical message of the characters you write.
Equipment: Please note this course will take place online. We recommend you purchase a Calligraphy brush, ink and paper to use during each lesson.
How to register: The next Calligraphy course will start on Tuesday 28th of September until Tuesday 14th of December! This course is suitable for anyone new to Calligraphy and for those who have experience with Calligraphy or previously attended our Calligraphy course. The cost of this course is £36 and registration will soon be open, via the University Online Store.
A world top-100 university
We're a world top-100 university renowned for the excellence, impact and distinctiveness of our research-led learning and teaching.