Modern and Contemporary Literature
The School of English has an excellent profile in research in the modern and contemporary period.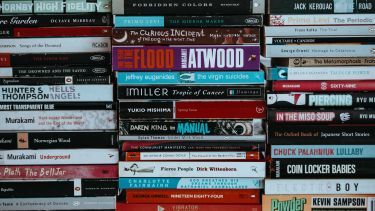 We publish work in both American and British literature from modernism to the present day and demonstrate expertise in research areas at the forefront of current thinking across a wide spectrum, including modernism and science, animal studies, Holocaust literature, war studies, avant-garde poetry.
The modern and contemporary researchers have in common a tough-minded, historicist approach to theory, including reflection on race, trauma, text world, technology, aesthetics.
The team works together and with other researchers to expand the horizons and impact of their research including:
Engaging with local communities, as with the acclaimed Storying Sheffield project
Setting up international networks, as with the European Science Foundation-funded Cultures of the Cold War research group
Sponsoring new and original research, in archives and beyond, as with Jonathan Ellis's BARDA-funded project, which also supported the organisation of a series of public lectures on letter-writing by epistolary scholars and writers. Speakers have included Anne Fadiman, Hermione Lee, Edna Longley,  Hugh Haughton, Angela Leighton, Paul Muldoon and Frances Wilson 
Contributing to Gothic projects as part of 'Sheffield Gothic'
The modern and contemporary group have been at the forefront of organisational initiatives, such as the Sheffield Centre for Poetry and Poetics.
Recent conferences organized by the group have included:
'Representing Perpetrators', Humanities Research Institute, September 2010
New York School Symposia, Exhibition Space, June 2011 and January 2012
New York School Symposium, Exhibition Space, June 2011
White Rose Workshop: Poetry and Travel after 1945, Tapestry Room, Firth Hall, May 2012
Recent monographs and collected essays include:
Jenni Adams, Magic Realism in Holocaust Literature: Troping the Traumatic Real (Basingstoke: Palgrave Macmillan, 2011)
Adam Piette, The Literary Cold War, 1945 to Vietnam (Edinburgh University Press, 2009)
Sue Vice, Jack Rosenthal (Manchester University Press, 2009) &
Shoah (BFI Modern Film Classics, 2011)
The Edinburgh Companion to Twentieth-Century British and American War Literature, ed. Adam Piette and Mark Rawlinson (Edinburgh: Edinburgh University Press, 2012)
Complicities: British Poetry 1945-2007, ed. Sam Ladkin and Robin Purves (Prague: Litteraria Pragensia, 2007)​​​​
Postgraduate teaching and research
Our PhD and MA students are an integral part of our research community. In addition to the School of English research seminars, staff and students also run work in progress seminars, student-run postgraduate seminars such as the recent P-19 series, and organize networks and symposia to bring researchers together from around the world.
Recent and current PhD topics include:
Perception and Self Definition in Dorothy Richardson's Pilgrimage
Neo-Passing Narratives: Race and Class Passing in African American Women's Literature Post-1945
John Berryman and Saul Bellow
The Cold War to the War on Terror: Surveillance and Trauma in Contemporary Literature
Place-Experience and Modernity in D. H. Lawrence
'Bound to the Past': Nostalgia in the Work of William S. Burroughs
Cold War Cultural Experience in Thomas Pynchon
Class, Culture and Colonialism: Working-Class Writing in Postwar Britain
The representation of coma and brain injury in literature
Environmental Representation and Engagement in the works of Samuel Beckett and W.G. Sebald
A Text World Theory approach to oral narratives of identity
The End of Letter Writing? Correspondence from 1900 to the Present Day
'Perfection of the life, or of the work': W. B. Yeats after Ethical Criticism
Democracy and Dialectics: British Literature 1914-1939
The MA English Literature offers students the opportunity to develop work in twentieth and twenty-first-century topics, including through the American Studies pathway.
Further details of our MA teaching
Further information about research in Modern and Contemporary literature can be found via our individual research pages: