We have extensive links with China, welcoming a high number of Chinese students each year.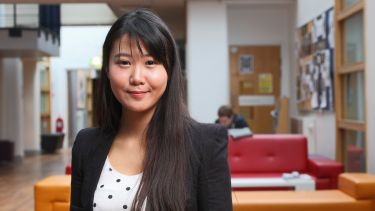 Off
We provide a wide range of courses including our undergraduate LLB Law and LLB Law with Chinese Law courses highly regarded by applicants from China.
 We also offer postgraduate study in the form of masters degrees and PhD research degrees. Our LLM in Corporate and Commercial Law is a popular choice for Chinese students.
We provide personal and academic tutoring and have a team of Mandarin and Cantonese speakers, as well as academic and support staff members from China and Malaysia, who can understand the challenges you face doing a degree in a foreign language.
We will provide you with all the personal support you need to succeed. We can advise you on module choice and how to tailor the course to your career aspirations.
---
The flexible module choices keep us open to a variety of career possibilities in the future. All the talks, projects and workshops will also help you find the career choice which suits you best, and it will also be a great chance to build contacts and meet new friends!

Lanxin Zhao

Chinese student
---
Our programmes are popular in China; students come to us from a range of top universities. We have close connections with a number of leading Chinese universities including Renmin University, Shandong University, Sun Yat-sen University and Jilin University.
This is a friendly, close-knit community. We teach in small groups and you will get to know your professors and lecturers in classes and at social events.
---
Scholarships and funding
We are committed to rewarding high-achieving applicants from China.