How the School of Law supported me

India Chung
Undergraduate student
LLB Law (with Chinese Law)
2025
India Chung is a second year undergraduate student studying LLB Law with Chinese at the School of Law. She talks to us about why she chose the course, the skills she has gained, how she has been supported and plans for the future.
Why did you decide to study this course?
The reason I chose to study Law with Chinese Law was because of my interest in debating competitively, learning languages and the difference in legal cultures around the world. From the age of 15, I have been competitively debating across the country. As a result, I have had the opportunity to meet many amazing people from different disciplines. It was through networking I was able to gain an understanding of the versatile nature of law and its importance in our society. In regards to studying a language alongside my law degree, I believe that possessing a worldly view of various legal systems is important for an aspiring lawyer. I believe that being well versed in legal cultures outside of the English legal system not only develops your ability to compare and contrast legal structures more generally, but allows you to witness how legal knowledge is translated all around the world in line with cultural and socio-political circumstances.
The School of Law is a global environment which prioritises the well-being of the next generation of lawyers.

India Chung

LLB Law with Chinese
What skills have you gained whilst studying in Sheffield?
Whilst studying at Sheffield I have learned to be both curious and inquisitive within my learning. Being pushed to question and analyse different perspectives of the legal system has not only developed my level of critical thinking but has allowed me to develop my way of thinking. I have also learned the importance of balancing my academic and social life.
Studying at Sheffield has allowed me to develop a rounded approach to law, providing me with an understanding of the theoretical knowledge, practicality and conditions in which to apply it. The university promotes 'research-led' teaching, meaning my learning is developed in line with the daily contributions and practical experiences of academics within department. This means my knowledge base is at the forefront of legal knowledge. As many of my teachers are practising lawyers, I regularly explore practical applications of law within my studies, through case studies or through the insights of my lecturers which I really enjoy.
What is your favourite thing about studying your course at Sheffield?
My favourite thing about studying my course at Sheffield is the atmosphere and the environment. I love that I can learn from lecturers that are at the forefront of their academic discipline. Also having countless opportunities to collaborate in a global atmosphere. I am also able to talk and learn with people from around the world is something I really enjoy and is a special opportunity.
Have you taken advantage of any opportunities that the Law School offers to students?
Studying law is at times academically challenging and has sometimes been difficult to balance with my well-being. It was with the support of my tutor, the Wellbeing Team here at the School of Law as well as my friends and family that I was able to learn how to prioritise time for myself. Simply talking about how I was feeling allowed me to understand that I was not the only one going through this situation and helped me gain an understanding of the importance to balance which I can take forward into my future career.
What are your career aspirations?
In the future, I hope to be working in a global law firm, based in London or Hong Kong, specialising in real estate.
What advice would you give to someone thinking about studying in the School of Law at Sheffield?
My advice to those thinking about studying at the School of Law at Sheffield is that is a place that can only benefit you. The constant support and resources available not only teach you how to be a good lawyer but how to become the best version of yourself while studying at Sheffield.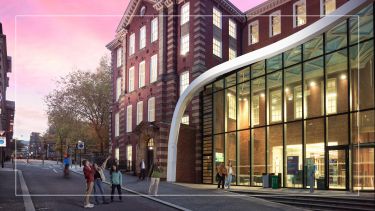 Visit us
Discover what sets Sheffield apart at our undergraduate open days on the Saturday 21 October or Saturday 18 November.