Accounting and Financial Management and Mathematics
BA
Management School
School of Mathematics and Statistics
Apply for this course
You are viewing this course for 2021-2022 entry.
Course description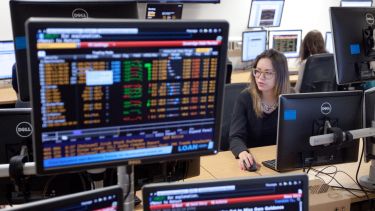 This is a dual honours course, which means you'll spend roughly half your time in the partner department, the School of Mathematics and Statistics.
You'll get a good grounding in both subjects, plus the chance to study specific areas in more detail. The subjects are given equal weighting.
The way we teach the accounting and financial management side is the same, in principle, as the single honours course (Accounting and Financial Management). You take a lot of the same modules as a single honours student.
Because you're studying two subjects, you don't get to look at accounting, financial management or mathematics in as much detail as you would on the single honours degrees, but the quality of your education is the same.
The two subjects complement each other, which opens up even more career opportunities.
Dual and combined honours degrees
This course is accredited by the following bodies for the purpose of eligibility for Associate membership and exemption from some professional examinations.
Modules
The modules listed below are examples from the last academic year. There may be some changes before you start your course. For the very latest module information, check with the department directly.
Choose a year to see modules for a level of study:
Title: Accounting and Financial Management and Mathematics BA course structure
UCAS code: NG41
Years: 2021
Core modules:
Foundations in Financial Management

This module aims to create a foundation of knowledge in the subject area of financial management, creating the required framework of skill and knowledge for financial decision making and to provide a base of knowledge for the related modules in levels 2 and 3. This module will achieve this by introducing the essential principles, theories and calculations within financial management. It will also introduce the contemporary issues and developments in financial markets. The module design and content expects to at least cover the contents of foundation level financial management related module syllabus of professional accounting bodies.

20 credits

Introduction to Financial Accounting

Financial Accounting is concerned with the ways in which the financial transactions of a business are recorded and summarised in financial statements. This module provides an introduction to the construction of financial statements and an understanding and evaluation of the principles and concepts on which they are underpinned. Once the principles have been established, the module further develops the practical understanding of the preparation of financial statements and focuses on the preparation, interpretation and limitations of company financial statements and the regulatory framework in which they are prepared.

20 credits

Introduction to Management Accounting

The aim of this module is to establish a firm understanding of the basic techniques of management accounting. The selection of accounting techniques is conditional on purpose; the management accountant¿s role therefore includes attention-directing, score- keeping, and problem-solving.

20 credits

Introduction to Probability and Statistics

The module provides an introduction to the fields of probability and statistics, which form the basis of much of applicable mathematics and operations research. The theory behind probability and statistics will be introduced, along with examples occurring in diverse areas. Some of the computational statistical work may make use of the statistics package R.

20 credits

Mathematics Core 1

The module explores topics in mathematics which will be used throughout many degree programmes. The module will consider techniques for solving equations, special functions, calculus (differentiation and integration), differential equations, Taylor series, complex numbers and finite and infinite series. The course will use mathematical packages, for example MAPLE, as appropriate to illustrate ideas.

20 credits

Mathematics Core II

The module continues the study of core mathematical topics begun in MAS110, which will be used throughout many degree programmes. The module will discuss 2-dimensional co-ordinate geometry, discussing the theory of matrices geometrically and algebraically, and will define and evaluate derivatives and integrals for functions which depend on more than one variable, with an emphasis on functions of two variables. The course will use mathematical packages, for example MAPLE, as appropriate to illustrate ideas.

20 credits
Core modules:
Advanced Calculus and Linear Algebra

Advanced Calculus and Linear Algebra are basic to most further work in pure and applied mathematics and to much of statistics. This course provides the basic tools and techniques and includes sufficient theory to enable the methods to be used in situations not covered in the course. The material in this course is essential for further study in mathematics and statistics.

20 credits

Financial Management

This unit takes the key themes and techniques that were introduced in MGT141, Introduction to Financial Management, and locates them in their institutional and intellectual setting to enable students to reflect critically on understandings of financial institutions and phenomena. The resulting understanding and skills of critique will enhance students¿ capabilities to reflect on the more specialist bodies of knowledge encountered in financial management and finance units in subsequent semesters. The unit uses a combination of conventional lectures to familiarise students with ideas and tutorials in which students are encouraged to show their understanding of ¿ and critically evaluate ¿ content of lectures.

20 credits

Intermediate Financial Accounting

This is an intermediate level financial accounting course, building on the level 1 `introductory¿ module (MGT132). It follows that some of the concepts, techniques and skills acquired during the study of that module remain examinable (revision exercises are provided throughout the module). In addition there is examination of a range of accounting standards and underpinning rationales, a review of the major conceptual debates currently preoccupying both accountants and standard-setters, and an exploration of the practical problems associated with the reporting of the results of limited companies and groups.

20 credits

Intermediate Management Accounting

This unit builds on the basic skills acquired in MGT102, viewing the management accountant as an important internal corporate communicator and provider of information for management decision and control purposes. Particular emphasis is placed on the management accountant's various methods of analysing and presenting different kinds of information, drawn from both internal and external sources.The unit distinguishes between the provision of management accounting services at policy, executive and operational levels. On the basis of this distinction, the management accountant is seen as centrally involved in the evaluation and implementation of alternative courses of action in organisations.The unit also examines the development of management accounting techniques in processes of sustainable organisational performance appraisal, analysis and reporting and considers such as strategic marketing, corporate social responsibility and ethics. Finally, the unit considers the developing contribution to be made by management accountants in the creation, evaluation and control of sustainable organisations.

20 credits

Statistical Inference and Modelling

This unit develops methods for analysing data, and provides a foundation for further study of probability and statistics at Level 3. It introduces some standard distributions beyond those met in MAS113, and proceeds with study of continuous multivariate distributions, with particular emphasis on the multivariate normal distribution. Transformations of univariate and multivariate continuous distributions are studied, with the derivation of sampling distributions of important summary statistics as applications. The concepts of likelihood and maximum likelihood estimation are developed. Data analysis is studied within the framework of linear models. There will be substantial use of the software package R.

20 credits

Mathematics and Statistics in Action

This module will demonstrate, in a series of case studies, the use of applied mathematics, probability and statistics in solving a variety of real-world problems. The module will illustrate the process of mathematical and statistical modelling, whereby real-world questions are translated to mathematical and/or statistical questions. Students will see how techniques learned earlier in their degree, as well as simple computer programming, can be used to explore these problems. There will be a mix of individual and group projects, and some projects will involve the use of R or Python, but MAS115 is not a prerequisite.

10 credits

Probability Modelling

The course introduces a number of general models for processes where the state of a system is fluctuating randomly over time. Examples might be the length of a queue, the size of a reproducing population, or the quantity of water in a reservoir. The aim is to familiarize students with an important area of probability modelling.

10 credits
Core modules:
Advances in Financial Accounting

The module follows on from the financial accounting modules taken at levels one and two. It extends students' technical competency in financial accounting and allows for a deeper analysis of financial reporting issues in a number of key areas. Included on the module is the study of segmental reporting, consolidated balance sheets, consolidated profit and loss accounts, vertical group balance sheets, associated company accounts, joint ventures, the effects of changing prices in accounting, foreign currency translation, capital instruments, financial instruments, related- party transactions and the international harmonisation of accounting standards.

20 credits

Advances in Management Accounting

The module builds on MGT102 and MGT211 and concentrates on the application of techniques using a number of case studies. In addition, the module deals with the changing role of Management Accounting within organisations and new developments reflected by current issues in research.

20 credits
Optional modules:
Auditing

The aim of this module is to consider how successfully auditing carries out the roles that are assigned to it. An audit is the independent examination of, and expression of an opinion on, the financial statements of an enterprise. Audit has crucial roles to play in the processes of corporate and social governance, relating especially to the transmission of information to financial markets and individual/groups to whom organisations are accountable. In the `audit society¿, the meaning of audit has broadened to embrace diverse forms of inspection and non-financial performance reporting. This course is designed to introduce students to the major issues in auditing theory and practice, making reference to current contexts.

20 credits

Case Studies in Accounting and Consultancy

As the accounting & finance academic discipline has developed, the repeated contrast between theory and practice has been held-up as a classic illustration of the value of studying accounting & finance in the contexts in which it operates. From such viewpoints, the case study has emerged as a valuable research and teaching method, a way of enabling researchers and students alike to better understand the practical role of accounting & finance in organisations & society. Rather than relying on abstract text books or normative theories, the case study permits the development of more `grounded¿ knowledge.MGT 329 is a course based upon the analysis of case studies. It aims to allow students to handle complex information sets, undertake their own research, apply accounting and finance knowledge gain elsewhere on the degrees programme, make judgements as to the relevance of various data sources and empirical findings. Through the analysis of case studies, this module aims to offer a rich context for the use of different approaches, varied and contradictory data sources, and original & creative approaches to problem solving.

20 credits

Company Analysis and Valuation

This module is aimed at those students wanting to move into fund management / trading within global equity markets and who are targeting leading investment banks and fund managers as a career destination. The module will develop skills and understanding of a Bloomberg terminal and how to analyse and value companies using a range of techniques. The module will focus on using predominantly numerical techniques however these will be blended with other considerations which impact the value and performance of global listed companies. A wide range of global case studies will be used to demonstrate advanced valuation techniques and investment principles, thus giving students a sound grounding to take future professional qualifications with bodies such as the CFA. Tutorials will be based in a trading room enabling students to utilise a wide range of practical data sources and trading platforms, such as Bloomberg within the setting of a small and supportive class.

20 credits

Practical and Applied Statistics

The overall aim of the course is to give students practice in the various stages of dealing with a real problem: objective definition, preliminary examination of data, modelling, analysis, computation, interpretation and communication of results. It could be said that while other courses teach how to do statistics, this teaches how to be a statistician. There will be a series of projects and other exercises directed towards this aim. Projects will be assessed, but other exercises will not.

20 credits

Taxation in Theory and Practice

A nation's taxation system affects its resource allocation, the distribution of its income, its standard of living and its general economic performance. Everyone in an economy is affected directly or indirectly by taxation and the nature of the tax system goes to the heart of social, moral, political as well as economic questions. The subject is highly topical and embraces such important policy issues as the effect of taxes on incentives, the control of the environment, local autonomy and its place in economic management. The unit is in two parts: part one provides an economic analysis of taxation and uses this analysis to evaluate the British tax system; part two deals with practical problems within the British tax system.

20 credits

Undergraduate Ambassadors Scheme in Mathematics

This module provides an opportunity for Level Three students to gain first hand experience of mathematics education through a mentoring scheme with mathematics teachers in local schools. Typically, each student will work with one class for half a day every week for 11 weeks. The classes will vary from key stage 2 to sixth form. Students will be given a range of responsibilities from classroom assistant to the organisation and teaching of self-originated special projects. Only a limited number of places are available and students will be selected on the basis of their commitment and suitability for working in schools.

20 credits

Applied Probability

The unit will link probability modelling to Statistics. It will explore a range of models that can be constructed for random phenomena that vary in time or space - the evolution of an animal population, for example, or the number of cancer cases in different regions of the country. It will illustrate how models are built and how they might be applied: how likelihood functions for a model may be derived and used to fit the model to data, and how the result may be used to assess model adequacy. Models examined will build on those studied in MAS275

10 credits

Bayesian Statistics

This unit develops the Bayesian approach to statistical inference. The Bayesian method is fundamentally different in philosophy from conventional frequentist/classical inference, and has been the subject of some controversy in the past. It is, however, becoming increasingly popular in many fields of applied statistics. This course will cover both the foundations of Bayesian statistics, including subjective probability, utility and decision theory, and modern computational tools for practical inference problems, specifically Markov chain Monte Carlo methods and Gibbs sampling. Applied Bayesian methods will be demonstrated in a series of case studies using the software package WinBUGS.

10 credits

Codes and Cryptography

The word `code' is used in two different ways. The ISBN code of a book is designed in such a way that simple errors in recording it will not produce the ISBN of a different book. This is an example of an `error-correcting code' (more accurately, an error-detecting code). On the other hand, we speak of codes which encrypt information - a topic of vital importance to the transmission of sensitive financial information across the internet. These two ideas, here labelled `Codes' and `Cryptography', each depend on elegant pure mathematical ideas: codes on linear algebra and cryptography on number theory. This course explores these topics, including the real-life applications and the mathematics behind them.

10 credits

Combinatorics

Combinatorics is the mathematics of selections and combinations. For example, given a collection of sets, when is it possible to choose a different element from each of them? That simple question leads to Hall's Theorem, a far-reaching result with applications to counting and pairing problems throughout mathematics.

10 credits

Complex Analysis

It is natural to use complex numbers in algebra, since these are the numbers we need to provide the roots of all polynomials. In fact, it is equally natural to use complex numbers in analysis, and this course introduces the study of complex-valued functions of a complex variable. Complex analysis is a central area of mathematics. It is both widely applicable and very beautiful, with a strong geometrical flavour. This course will consider some of the key theorems in the subject, weaving together complex derivatives and complex line integrals. There will be a strong emphasis on applications. Anyone taking the course will be expected to know the statements of the theorems and be able to use them correctly to solve problems.

10 credits

Financial Mathematics

The discovery of the Capital Asset Pricing Model by William Sharpe in the 1960's and the Black-Scholes option pricing formula a decade later mark the beginning of a very fruitful interaction between mathematics and finance. The latter obtained new powerful analytical tools while the former saw its knowledge applied in new and surprising ways. (A key result used in the derivation of the Black-Scholes formula, Ito's Lemma, was first applied to guide missiles to their targets; hence the title 'rocket science' applied to financial mathematics). This course describes the mathematical ideas behind these developments together with their application in modern finance.

10 credits

Graph Theory

.A graph is a simple mathematical structure consisting of a collection of points, some pairs of which are joined by lines. Their basic nature means that they can be used to illustrate a wide range of situations. The aim of this course is to investigate the mathematics of these structures and to use them in a wide range of applications.

10 credits

History of Mathematics

The course aims to introduce the student to the history of mathematics. The topics discussed are Egyptian and Babylonian mathematics, early Greek mathematics, Renaissance mathematics, and the early history of the calculus.

10 credits

Machine Learning

Machine learning lies at the interface between computer science and statistics. The aims of machine learning are to develop a set of tools for modelling and understanding complex data sets. It is an area developed recently in parallel between statistics and computer science. With the explosion of ¿Big Data¿, statistical machine learning has become important in many fields, such as marketing, finance and business, as well as in science. The module focuses on the problem of training models to learn from training data to classify new examples of data.

10 credits

Medical Statistics

This course comprises sections on Clinical Trials and Survival Data Analysis. The special ethical and regulatory constraints involved in experimentation on human subjects mean that Clinical Trials have developed their own distinct methodology. Students will, however, recognise many fundamentals from mainstream statistical theory. The course aims to discuss the ethical issues involved and to introduce the specialist methods required. Prediction of survival times or comparisons of survival patterns between different treatments are examples of paramount importance in medical statistics. The aim of this course is to provide a flavour of the statistical methodology developed specifically for such problems, especially with regard to the handling of censored data (eg patients still alive at the close of the study). Most of the statistical analyses can be implemented in standard statistical packages.

10 credits

Operations Research

Mathematical Programming is the title given to a collection of optimisation algorithms that deal with constrained optimisation problems. Here the problems considered will all involve constraints which are linear, and for which the objective function to be maximised or minimised is also linear. These problems are not continuously differentiable; special algorithms have to be developed. The module considers not only the solution of such problems but also the important area of post-optimality analysis; i.e. given the solution can one answer questions about the effect of small changes in the parameters of the problem (such as values of the cost coefficients)?

10 credits

Sampling Theory and Design of Experiments

The results of sample surveys through opinion polls are commonplace in newspapers and on television. The objective of the Sampling Theory section of the module is to introduce several different methods for obtaining samples from finite populations. Experiments which aim to discover improved conditions are commonplace in industry, agriculture, etc. The purpose of experimental design is to maximise the information on what is of interest with the minimum use of resources. The aim of the Design section is to introduce some of the more important design concepts.

10 credits

Time Series

Time series are observations made in time, for which the time aspect is potentially important for understanding and use. The course aims to give an introduction to modern methods of time series analysis and forecasting as applied in economics, engineering and the natural, medical and social sciences. The emphasis will be on practical techniques for data analysis, though appropriate stochastic models for time series will be introduced as necessary to give a firm basis for practical modelling. Appropriate computer packages will be used to implement the methods.

10 credits

Topics in Number Theory

This module aims to investigate some of the properties of the natural numbers 1,2,3,... Topics covered include linear and quadratic congruences, Fermat's Little Theorem, the RSA cryptosystem, the Law of Quadratic Reciprocity, perfect numbers, Mersenne primes, Fermat's Last Theorem, continued fractions, and Pell's equation.

10 credits
The content of our courses is reviewed annually to make sure it's up-to-date and relevant. Individual modules are occasionally updated or withdrawn. This is in response to discoveries through our world-leading research; funding changes; professional accreditation requirements; student or employer feedback; outcomes of reviews; and variations in staff or student numbers. In the event of any change we'll consult and inform students in good time and take reasonable steps to minimise disruption.
Learning and assessment
Learning
This dual honours course gives you a good grounding in both Accounting and Financial Management and Mathematics. You'll spend roughly half your time in each department.
The way we teach the accounting and financial management side is the same, in principle, as the single honours course (Accounting and Financial Management BA). We have worked closely with a range of professional bodies such as ACA, ACCA and CIMA along with leading global employers to develop a course that provides you with the knowledge and skills to excel.
Our multidisciplinary approach means that you will learn practical skills to help you land the right job, as well as gaining the rigorous academic knowledge that you require to progress throughout your degree.
You'll attend lectures, seminars, workshops and other programme level teaching with small group sizes and a supportive learning environment to see you achieve your full potential.
You'll be given reading or be asked to prepare work in advance and contribute to discussions and group work during the seminar.
You will also develop an advanced understanding of mathematics. You'll learn through lectures, problems classes in small groups and research projects.
You'll be supported throughout your degree by your module leaders, tutors, personal tutors and our wider learning and teaching support such as the 301 Academic Skills Centre.
Our courses are based on world-leading research and our staff, many of whom have extensive industry experience, produce impactful research that influences policy and informs public debate.
We were ranked in the top 5 in the Russell Group for our research impact and 14th overall in the UK in the most recent Research Excellence Framework (2014), a periodic assessment of all university research in the UK. This gives you access to degrees that combine real-world application with cutting-edge business thinking.
Entry requirements
Standard offer
Access Sheffield offer
The A Level entry requirements for this course are:
AAB
including A in Maths
The A Level entry requirements for this course are:
ABB
including A in Maths
A Levels + additional qualifications | ABB, including Maths grade A + A in a relevant EPQ ABB, including Maths grade A + A in a relevant EPQ
International Baccalaureate | 34, 6 in Higher Level Maths 33 with 6 in Higher Level Maths
BTEC | DDD in a relevant subject with Distinctions in Maths units DDD in a relevant subject with Distinctions in Maths units
Scottish Highers + 1 Advanced Higher | AAABB + A in Maths AABBB + A in Maths
Welsh Baccalaureate + 2 A Levels | B + AA, including Maths B + AB including A in Maths
Access to HE Diploma | 60 credits overall in a relevant subject with Distinctions in 36 Level 3 credits, including Mathematics units, + Merits in 9 Level 3 credits 60 credits overall in a relevant subject with Distinctions in 30 Level 3 credits, including Mathematics units, + Merits in 15 Level 3 credits
English language requirements |
You must demonstrate that your English is good enough for you to successfully complete your course. For this course we require: GCSE English Language at grade 4/C; IELTS grade of 6.5 with a minimum of 6.0 in each component; or an alternative acceptable English language qualification
Management School
We are a leading business school with Triple Crown accreditation (AACSB, AMBA and EQUIS). These awards have been achieved through the outstanding quality of our programmes, research output, support for students and alumni, and links with industry. We have a world-class reputation for high quality teaching, ground-breaking research and cutting-edge thinking.
You'll be part of a dynamic and engaging business school that puts you and your future at the heart of everything it does. We balance a rigorous academic foundation with practical skills to ensure you are ready for the world of work.
We want you to develop skills so you can apply course content in a company setting. Our close links with organisations keep us in tune with the changing demands of the workplace. We know what employers are looking for.
You'll learn from experts - many are former industry professionals and they work closely with businesses. Because our academics are world-leading researchers, your education will draw on the most current management theories.
We want you to engage with the academic content, be conscientious and take an independent approach to study. We want you to be informed, innovative and proactive and do everything we can to support and enhance your career, steering you in the right direction with all the knowledge and skills you require. You'll benefit from tailored on-site and online professional careers support, dedicated skills sessions and events with experts from world-leading organisations and professional bodies. These activities will help guide your personal and professional development to help you secure your dream placement, internship or graduate role.
Specialist business and finance databases
The Accounting and Financial Management programme provides you with access to a comprehensive collection of specialist business and finance databases that are used by global companies, analysts and top researchers. These include Bloomberg, Refinitiv Eikon, Datastream, Thomson ONE, Compustat, MSCI, WRDS and CSMAR among others. These databases will give you access to market insights and the data that you'll need to complete your assessments, learn new skills and become work-ready.
Trading room
The Management School has invested in an impressive, fully-equipped financial trading room, built around Bloomberg and Refinitiv Eikon. These terminals are used by traders, banks and multinational companies to trade financial securities, gain market insights and undertake research. Students will gain certification that demonstrates competence in these systems, which will add real value to your CV.
Management School students are based in our building on Conduit Road which accommodates learning facilities such as lecture theatres, seminar rooms, trading and computer rooms, our academic and professional staff, the Courtyard Café, and our Futures First Employability Hub and Student Experience Office. Teaching takes place at various venues across campus.
Facilities
The Management School has invested in an impressive, fully-equipped financial trading room, built around Bloomberg and Refinitiv Eikon.
These terminals are used by traders, banks and multinational companies to trade financial securities, gain market insights and undertake research. Students will also have the opportunity to gain certification that demonstrates competence in these systems, which will add real value to your CV.
Management School
School of Mathematics and Statistics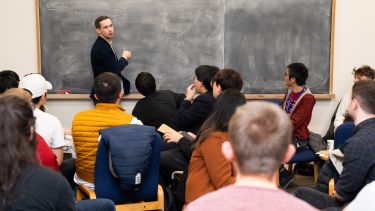 From geometry to probability, our courses cover all aspects of mathematics, pure and applied. With modules in finance, science, engineering and medical applications, we showcase the wide-ranging relevance and importance of mathematics.
Degree-level maths is about finding ways to answer big questions. You'll explore how mathematicians have tried to answer similar questions in the past. You'll also learn how to construct logical arguments with reasoned conclusions.
Your study will include core mathematics, pure mathematics, applied mathematics, and probability and statistics. You can specialise later in your course, and may have the option to switch between our degrees. You'll have the chance to study scientific programming and simulation, and practical and applied statistics. You'll have plenty of opportunities to focus on your career and skills development too.
The School of Mathematics and Statistics is based in the Hicks Building, which is next door to the Students' Union, and just down the road from the library facilities at the Information Commons and the Diamond. The Department of Physics and Astronomy is also based here.
School of Mathematics and Statistics
Why choose Sheffield?
The University of Sheffield
  A Top 100 university 2021
QS World University Rankings
  Top 10% of all UK universities
Research Excellence Framework 2014
  No 1 Students' Union in the UK
Whatuni Student Choice Awards 2019, 2018, 2017
  No 1 in the north for graduate employment
The Times and Sunday Times Good University Guide 2020
---
Management School
Triple Crown accredited
AACSB, AMBA and EQUIS
---
School of Mathematics and Statistics
3rd in the Russell Group for overall satisfaction
National Student Survey 2019
---
Graduate careers
Management School
We have a dedicated Employability Hub where you can access careers support, find job or placement opportunities, and develop essential skills through workshops with industry experts. You're supported throughout your course and for up to three years after you graduate. We work with businesses and organisations to ensure the content of our courses are up-to-date and relevant, and that the skills and experience you'll gain meet the demands of future employers.
Sheffield University Management School careers
School of Mathematics and Statistics
In the age of big data, major companies are increasingly reliant on graduates with numerical skills.
Many of our graduates go on to finance-related careers: accountancy, actuarial work, public finance, insurance. There are lots of other choices too, including: teaching, advertising, software development, operations research, drug development and meteorology.
Employers include PricewaterhouseCoopers, KPMG, Deloitte UK, GCHQ, British Airways and the European Space Agency.
Some of our graduates choose further study in mathematics and related sciences at masters and PhD level.
Add a placement year
Placement years can be taken between the second and final year of your degree. You'll choose whether you want to do this after you begin your course with us. We'll add 'Degree with Employment Experience' to the end of your degree title to reflect your time spent in industry.
All of our undergraduate courses offer the flexibility to add a placement year. A placement year is an excellent opportunity to apply what you've learnt in your course and gain invaluable workplace experience. You'll develop a range of transferable skills and become more commercially aware.
You'll be paid a salary on average £13,000 - £25,000. Some big corporates are starting to see it as an extended selection process for their graduate training schemes.
Previous students have undertaken placements at Accenture, Aldi, Boots, BMW, L'Oreal, IBM, Morgan Stanley, PwC, Rolls-Royce, Marks and Spencer, Microsoft, Nissan and Walt Disney, as well as less well-known companies.
Fees and funding
Fees
Additional costs
The annual fee for your course includes a number of items in addition to your tuition. If an item or activity is classed as a compulsory element for your course, it will normally be included in your tuition fee. There are also other costs which you may need to consider.
Visit us
University open days
There are four open days every year, usually in June, July, September and October. You can talk to staff and students, tour the campus and see inside the accommodation.
Taster days
At various times in the year we run online taster sessions to help Year 12 students experience what it is like to study at the University of Sheffield.
Applicant days
If you've received an offer to study with us, we'll invite you to one of our applicant days, which take place between November and April. These applicant days have a strong department focus and give you the chance to really explore student life here, even if you've visited us before.
Campus tours
Campus tours run regularly throughout the year, at 1pm every Monday, Wednesday and Friday.
Apply for this course
Make sure you've done everything you need to do before you apply.
How to apply When you're ready to apply, see the UCAS website:
www.ucas.com
The awarding body for this course is the University of Sheffield.