Part-time Cambridge exam preparation classes
If you're planning on taking a Cambridge Assessment English exam at B2 First or C1 Advanced level then our part-time evening classes can help you prepare.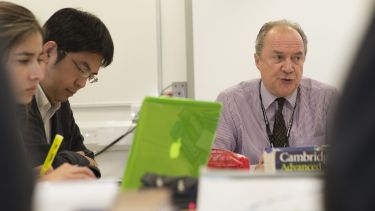 This course is for anyone over 18 planning on taking a Cambridge B2 First or C1 Advanced exam.
Level: CEFR B2 & C1
Cost: £449 including all tuition and materials. Exam entry fee not included.
Dates: Autumn 2023
Hours: 2 classes a week of 2 hours for 10 weeks (40 hours in total)
Apply: Apply Now
---
Cambridge English exams are recognised by over 25,000 universities, employers and governments around the world. Their English language tests can open doors to higher education, improve employment opportunities, and because they are globally recognized, can increase your choices for study and work.
---
About our Cambridge Exam preparation course 
Who is this course for?

We currently offer 2 different part-time Cambridge English preparation classes for the following Cambridge English exams:

B2 First - A B2 First qualification proves you have the language skills to live and work independently in an English-speaking country or study on courses taught in English.
C1 Advanced - A C1 Advanced qualification proves that you have reached an advanced level of English to work independently in an English speaking country or study on courses that require an advanced level of English.

Why take a Cambridge English exam?

Your Cambridge B2 First or C1 Advanced Certificate exam results provide you with an official, international qualification that proves your level of English.
Cambridge exams are globally-recognised by over 20,000 universities, governments and employers
Once you have taken a Cambridge Certificate, your result is valid for life! This means you don't have to take it ever again.
As well as all the benefits of a great reputation, the exams achieve their primary purpose – helping you gain the confidence you need to communicate effectively in English!

What does the course cover?

During the course you will:

Cover all tasks types required in the exam
Learn strategies to help you during the exam
Complete practice tests and get individual feedback from your teacher
Increase you grammar and vocabulary range to help you in the exam
Gain confidence in your English language skills

Can I take my exam at your centre?

Yes, we are an official Cambridge Assessment English test centre, and offer regular B2 First and C1 Advanced examination dates.

Cambridge exam fees are not included with the fee for this preparation course.

For more information on booking your Cambridge exam and to view upcoming examination dates at our centre, please visit our Cambridge Exams webpage:

Next Course Dates

Our most recent series of 10 week courses will took place between February 13 2023 and May 11 2023, with a three week break during the University's Easter vacation period:

Teaching block 1 - 13 February 2023 to 30 March 2023 (7 weeks)

Easter Break - 31 March 2023 to 23 April (3 weeks)

Teaching block 2 - 24 April 2023 to 11 May 2023 (3 weeks)

The full course consists of 40 hours tuition - 2 x 2hr lessons per week over 10 weeks.

Our next series of courses will begin in Autumn 2023, with exact course dates to be confirmed later in 2023.

Tuition Fees

The fees for the February 2023 courses are £449 and this includes tuition and all materials.

The Cambridge exam entry fee is not included as part of the course tuition fee.
How to apply
To apply for an upcoming course, please complete the application form below:
Part-time Cambridge Exam Preparation Course - Application Form
Applications for our February 2023 courses are now closed. Applications to our Autumn 2023 courses will open later in 2023.
After you have completed the application form, you will be invited to take a placement test to check that your level of English is appropriate for this course.
We will send you more information about the test after you complete the application form.
Information for Under 18s
Our courses are designed for adults. Applicants who are under 18 are subject to a number of restrictions and administrative procedures. 
The standard minimum age for our courses is 18 years. However, we will consider applications from applicants who are under 18 in some circumstances, and subject to satisfactory guardianship arrangements being in place. Please contact us for more information.
For further information on under 18s at the university please visit our "Students under the age of 18" webpage".
A world top-100 university
We're a world top-100 university renowned for the excellence, impact and distinctiveness of our research-led learning and teaching.