IELTS Exam Preparation Course
If you're planning on taking IELTS then our part-time evening classes can help you prepare.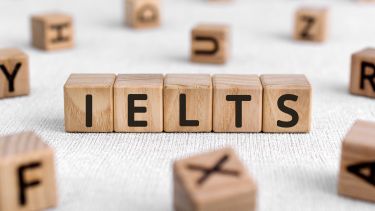 Our IELTS Exam preparation course is for anyone over 18 wanting to improve their exam techniques for IELTS.
Level: CEFR B2 / minimum IELTS 5.0
Cost: £430 including all tuition and materials. Exam entry fee not included.
Dates: Term 2 (February to May 2021)
Hours: 2 classes a week of 2 hours for 10 weeks (40 hours in total)
Apply: Applications for February 2021 are now closed. Further details about future courses will be listed here once confirmed.
---
Covid-19 - Term 2 (February to May 2021) Course Format Update
As a result of Covid-19 and to ensure the safety of all ELTC staff and students we have made some changes to Part-time Evening courses:
The classes were originally planned to take place in person but will now be taught online in compliance with the latest UK Government mandated lockdown currently in place.
We will keep you informed of any changes to the format of the course (if required) after you apply.
IELTS is the world's leading English language proficiency test, taken by over 1.7 million people each year. IELTS (Academic) assesses all of your English skills — reading, writing, listening and speaking, and is designed to reflect how you will use English at study. It is used for entry to universities all over the world, including Sheffield.
The English Language Teaching Centre (ELTC) is an official IELTS test centre and our teaching staff are qualified and experienced English language tutors. Our Centre is very modern, with spacious classrooms equipped with the latest technology and learning resources.
---
Course details
These classes are suitable for anyone with little or no experience of IELTS or those that want to refresh their exam skills. The classes are not suitable for anyone already taking an IELTS preparation course or those who have a very strong understanding of the test.
You may expect an improvement of half a band in each IELTS component from attending the course however this depends on external factors, like how much English is practised and studied outside the classroom and if you have previously taken an IELTS preparation course.
The classes focus on the test techniques and papers and NOT on general language improvement at a specific level. The class is not suitable for students wanting to improve their IELTS grades more than 0.5 bands or who need significant language improvement to achieve a specific IELTS band score.
You will be advised during the enrolment process if the ELTC feel the course is best suited to you and we CANNOT guarantee you will achieve any specific IELTS band at the end of the course.
Entry Levels (IELTS 5.5-6.0) Low B2 or equivalent. The course is not suitable for anyone with a lower or higher level of English.
After completing your preparation course you can also take your IELTS exam at our centre.
When does the course take place?
Term 2: 8th February 2021 - 7th May 2021 
The classes will take place on Monday and Wednesday evenings from 5.30pm to 7.30pm.
Exam date to be confirmed.
How much does the course cost?
The fee for this course is £430.
Course fees will include tuition, study book, practice test resources and extra learning materials. 
If you choose to take your IELTS exam at the ELTC you must pay an additional exam entry fee. Currently the IELTS entry fee at our centre is £176.
All fees must be paid in advance before you start the course.
It is possible to sit an IELTS exam without attending a course at the ELTC.
Find out more about just taking the IELTS exam.
---
How do I apply?
Applications for our February 2021 course are now closed. Further information about future courses will be listed on this webpage once confirmed.
After completing the application form, you will need to take an online placement test. This is a short test for us to make sure we recommend the right course for you. We will also take into account your preference.
We will send you more information about the online test after you complete the application form.
Information for Under 18s
Our courses are designed for adults. Applicants who are under 18 are subject to a number of restrictions and administrative procedures. 
The standard minimum age for our courses is 18 years. However, we will consider applications from applicants who are under 18 in some circumstances, and subject to satisfactory guardianship arrangements being in place. Please contact us for more information.
For further information on under 18s at the university please visit our "Students under the age of 18" webpage".
A world top-100 university
We're a world top-100 university renowned for the excellence, impact and distinctiveness of our research-led learning and teaching.