The School of Law genuinely feels like a community

Astrid Bloemink
Undergraduate student
LLB Law (with German Law)
2023
Astrid, one of our fourth year Law with German Law students, discusses how she has taken advantage of the opportunities at Sheffield.
Why did you decide to study this course?
When I was finishing high school, my school connected me with future employers for a mock interview to gain practice. Apprehensive to enter the field of law, I spent the first two minutes passionately explaining how boring lawyers were, concerned that I could succumb to the grey-suit syndrome often associated with the profession. Only upon the completion of the interview did I realise, my interviewer was in fact a lawyer, and deeply disagreed that law was a boring profession in practice. Unsurprisingly though, he wrote that he probably wouldn't hire me in my feedback form. 
Since then, I have succumbed to my passion for justice and law which I have had since a young age, and developed my debating skills. Combining Law with German just seemed like that *extra* little challenge, to boost my linguistic skills and help me stand out amongst other law professionals.
What skills have you gained whilst studying in Sheffield?
Besides now being almost completely fluent in German, I've learned a lot of non-academic skills outside of the classroom. Interviewing clients, case management and drafting letters are just a few of some of the real-life skills I've picked up in my four years at the School of Law. The focus on research has dramatically improved my woeful research skills so I now feel far more confident when asked to start on a topic I've only scratched the surface of.
What is your favourite thing about studying your course at Sheffield?
I love how all the lecturers are clearly passionate about their subject matter. It makes everything so much more engaging. Despite being a reputable university, Sheffield remains friendly, grounded and down-to-earth. Everyone is very approachable and seems genuinely interested in what I have to say. The module choice is vast and varied and there is almost certainly something for everyone. The Law School genuinely feels like a community, not just a school, and I've kept in touch with lecturers who have left, keeping those connections for life.
Have you taken advantage of any opportunities that the Law School offers to students?
I was lucky enough to be appointed FreeLaw manager this academic year (2022-23) after three years of fluctuating between on and offline meetings during the pandemic. I've learnt a lot more than simply how to interview clients and research skills. I've learnt how to listen to people - something I'm traditionally terrible at. I've had to tell desperate people who have lost everything that we can't help them or listened to vulnerable people pour out their insecurities and mental anguish. Nothing in the classroom can prepare you for real people and real clients, without having a go for yourself. The School of Law prepared me for and offered these opportunities in the comfort and security of the school.
I had the opportunity in my second year to assist an EU Law professor in her research paper for the European Journal of Health Law. This wasn't so much a step outside my comfort zone, as more of a long jump, but I felt encouraged enough to apply. Three months of remote work followed. Remote meetings, interviews, drafts and even a presentation to some sleepy-eyed students at Penn State University over Zoom. The paper was published in a real academic journal. 
What are your career aspirations?
I'm currently in a career limbo where I do not know where I want to go. I'm taking a step back next year to work and travel outside of law and then return for a Masters. However, my aspirations will always remain rooted in justice and equality and fighting for it. I'm sure wherever I end up, the skills learnt at Sheffield will come with me.
How do you think your degree experience will help you in your career?
One of the biggest things I've learnt is how to adjust to ever-changing situations. I think I am now fully capable in dealing with fast-changing situations, having studied during the course of the pandemic. Besides this, I've learnt how to ask for help and how to stand up for myself. I struggled with both of these before I started university but it's remarkable how much my confidence has grown. I've found Sheffield is very good at focusing on the skills you have and how to improve them, rather than forcing you to learn new ones. I've never felt pushed into doing things I'm very uncomfortable with and I've took advantage of ways to improve skills I already have.
What advice would you give to someone thinking about studying in the School of Law at Sheffield?
Take advantage of all the opportunities you get because you'll never get them again. I had so many missed opportunities due to the Covid-19 pandemic and I've been making up for them as much as I can in my final year. You never know when the world can suddenly stop again: Do the moot, attend that guest lecture, ask the "stupid" question that's genuinely been on your mind, apply for the position you're not entirely qualified for and definitely attend the core speaker lectures as they always have something valuable to say. Utilize the support available. I was involved in some of the start-up Wellbeing initiatives and it was great to see how it had expanded when I returned after my year abroad. Sheffield has proved itself to be committed to student wellbeing so do not be afraid to ask for help. You will get it.
What was your experience of the School of Law's study abroad program?
Studying a language as part of my degree provided me with an invaluable experience of going abroad and developing my skills to levels I never thought possible. I am so grateful I got the opportunity to study in Germany and come back with a new-found confidence in both myself and my linguistic abilities. I made friends from all over the world which has proved useful when travelling on a student budget, as well as being exposed to different cultures. Of course awkward miscommunications happen but that is part of the experience, and I'm extremely grateful I got the opportunity.
Please note, the LLB Law (with German Law) is no longer offered at the University of Sheffield.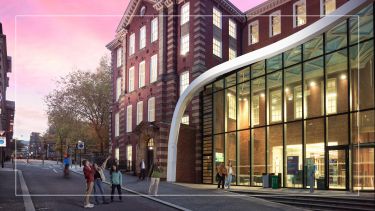 Visit us
Discover what sets Sheffield apart at our undergraduate open days on the Saturday 21 October or Saturday 18 November.