University of Sheffield English Language Teaching Centre Welcomes Visiting Students Back To Sheffield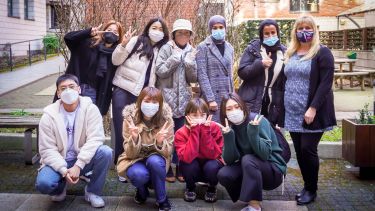 The University of Sheffield's English Language Teaching Centre (ELTC) has this February resumed in-person teaching for visiting overseas students from partner universities for the first time since the start of the Covid-19 pandemic in early 2020.
Helen Johnstone, the ELTC's Academic Director for University English, was pleased with the milestone and welcomed the newly arrived students: "I'm delighted to welcome students back to Sheffield from Nagoya College in Japan and Incheon, Chungbuk and Pusan Universities in Korea." 
Helen was full of praise for her new students adding: "They're an excellent addition to our University English programme as restrictions continue to relax and we return to face to face teaching."
Students also voiced their joy at returning to the classroom. "All lessons are very fun, especially speaking class the most" said Yui Sakai, a visiting student from Nagoya College. "I'm really enjoying talking face to face to other students."
Jonngeun Park, a recent arrival from Incheon University, echoed Yui's sentiment. "I like to talk with many people" she replied when asked what she was enjoying most about face to face lessons. "I can speak with many people from other countries!"
At least six further visiting groups from international partner institutions are booked to arrive for in-person English language courses in Sheffield later this year. Visiting students joining ELTC programmes during Summer 2022 will benefit from free membership to Sport Sheffield, the University's own sports and fitness department, with unlimited gym, swimming pool and fitness class access included as part of their course.
Contact Details & Further Information
For further information about bespoke English language courses at The University of Sheffield's English Language Teaching Centre, please visit our Special and Bespoke Courses web page. 
For any questions or initial expressions of interest in arranging a bespoke course for a group of visiting students, please contact Helen Johnstone by email - h.johnstone@sheffield.ac.uk
---
About the University of Sheffield, English Language Teaching Centre
The English Language Teaching Centre (ELTC) is part of The University of Sheffield and one of the largest university language centres in the UK. Much of the centre and many of our courses are accredited by external bodies such as the British Council and BALEAP. The centre is authorised by Cambridge Assessment English as an exam centre and for teaching awards.
With over 100 teachers and 20 administrative and support staff, the ELTC teaches and supports several thousand students a year on a range of general, pre-sessional and in-sessional programmes.
Our staff have experience of teaching international students in a wide range of locations and situations, both in the UK and overseas.
A world top-100 university
We're a world top-100 university renowned for the excellence, impact and distinctiveness of our research-led learning and teaching.