Researchers from the Challenge Us programme are working with business to help explore the potentials of Big Data.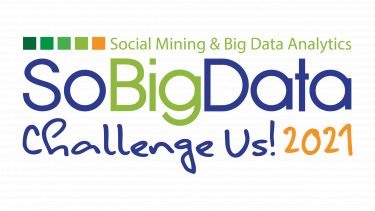 In an increasingly digitalised and interconnected world, the amount of data produced every day has reached levels which were unimaginable a few years ago. Huge amounts of data is created on a daily basis by a growing number of devices connected to the network such as smartphones, industrial technological machinery, sensor networks, smart cars, web search engines, web searches and social networks. However, being able to use this data in a meaningful and useful way is not an easy challenge for companies, especially those that are not digital natives. Many companies lack the necessary skills and technology to  utilise this data and often rely on external experts who can help them make sense of the data in order to use it in a meaningful way and improve the business. 
It is a widespread opinion that companies must be able to use this data to continue to remain competitive on the global market through the offer of new products / services or make their processes more efficient. The use and analysis of this large amount of data can in fact be crucial to understand and predict the behaviour of its customers, predict when a machine will need maintenance, or add new services to improve its offer

Roberto Trasarti, Coordinator of SoBigdata++
The Challenge Us programme is inviting companies to submit a proposal outlining a problem or a potential idea which uses data generated by their business. Companies will be selected by a panel of experts who will then help resolve the proposed challenge over a three month period. 
The experts are all researchers in the field of Big Data and belong to the European consortium SoBigData ++
About Challenge Us
The Challenge Us programme is organised by the Institute of Management of the Sant'Anna School of Advanced Study of Pisa in the context of the European project H2020 "SoBigData ++ (GA 871042)", with the participation of CNR, University of Pisa, La Sapienza University of Rome, University of Tartu (Estonia), University of Sheffield (United Kingdom), ETHZ (Switzerland), Center for the Study of Democracy (Bulgaria).
The programme provides free advice from Italian and European research institutions and universities to companies wishing to explore the potential of data they generate during the production, marketing, interactions with customers and the supply of their products.
Research team: 
Nicola Del Sarto, Scuola Superiore Sant'Anna, Pisa, Italy
Paolo Ferragina, University of Pisa, Italy
Adriano Fazzone, University of Rome, Italy
Nino Antulov-Fantulin, ETH Zurich, Switzerland
Kalina Bontcheva, University of Sheffield, U.K
Todor Galev, Center for the Study of Democracy, Bulgeria
Andrea Passarella, CNR, Pisa, Italy
Rajesh Sharma, University of Tartu, Estonia
Information for companies wishing to submit a  proposal
Further information: ttp://www.sobigdata.eu/challenge-us-2021
Applications should be sent to: challengeus@sobigdata.eu
Deadline for submitting: 15 May 2021
Successful companies will be selected by 1 July and work with experts between 15 July and 15 October. Results will be presented during a public event scheduled 11 November.
A world top-100 university
We're a world top-100 university renowned for the excellence, impact and distinctiveness of our research-led learning and teaching.