Business and Professional English core programme
This Business English language course is for anyone who wants to improve their English skills within a business context.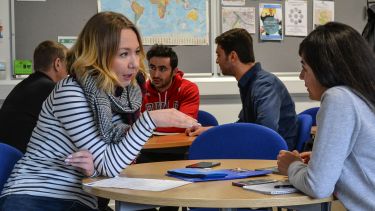 Level: CEFR B2 to C1
Cost: £405 per week - fee includes all tuition and materials
When: October - June (Term 1, 2 & 3) subject to demand
Hours:

12.5 hours of tutor-led classes
weekly 1 to 1 tutorial
7-10 hours of guided independent study per week

Maximum Class Size: 8 students
---
Our Core Business and Professional English Programme covers all of the essential skills and language you need to be successful in your workplace. The course is taught by Business and Language professionals and runs from October 2022 to June 2023.
The course is ideal for company personnel who wish to improve their Professional Skills and Business English language in a commercial context in the shortest possible time. Participants will usually have several years professional working experience and already be well established in their chosen career.
Our clients typically work in the following industries:
Financial services
Legal services
Manufacturing
Media communications
Management and Leadership
Operations
Pharmaceuticals
Sales and Marketing
Logistics
National Government and Administration
Local government and Administration
The course will benefit any company employee who needs to develop effective communication skills in English for use in their working life.
Learning Business English has broadened my horizons globally. I no longer hesitate to speak in English.

Yoshiki Sasa

Assistant Manager, Toyo Aluminium KK Japan
Whichever course you decide to take with us, you can expect to improve your Business and Professional English in the following ways:
Communicate more confidently
Speak more accurately and fluently
Write more accurately and fluently
Participate more successfully in meetings
Improve your written English including emailing
Expand your professional vocabulary
Improve your understanding of grammar
Socialise and network with greater confidence
Work successfully in a cross-cultural environment
In addition to the advantages outlined above, you can expect to be able to manage meetings and negotiations more effectively, improve your presentation skills, expand your business vocabulary, use the telephone with greater confidence as well as being able to discuss management theory and leadership skills with greater confidence.
---
The course comprises 12.5 hours of tutor-led classes, weekly 1 to 1 tutorial and 7-10 hours of guided independent study per week. The following areas are covered:
Communication skills
Meetings – covering such topics as:

Agreeing and disagreeing
Interrupting
Asking appropriate questions
Clarifying and confirming
Asking for comments
Summarising
Challenging/defending an opinion
Persuading and compromising
Making proposals, offers and suggestions
Opening/closing meetings.

Management (Theory and Practice) – This is taught by experienced lecturers from The University of Sheffield Management School and is delivered in an interactive lecture format. There are plenty of opportunities for questions and discussion. It is also possible to audit specific lectures and presentations on the MBA and MSc in Management programmes at the University of Sheffield Management School.
Negotiating including persuasion, selling techniques
Presentations including: Presentation of one's own work, organisation and products/services and figures and graphs and describing economic and social trends
Pronunciation and voice training
Business English vocabulary
Emailing, teleconferencing and telephoning in English
Networking skills
Case studies and discussion
Cross-cultural awareness, communication & working, including intercultural understanding
Economist and Harvard Business Review Readings
Current affairs focusing on BBC news and listening
---
During the course you will also receive regular 1 to 1 tutorials with an ELTC tutor. These tutorials are similar to a private lesson and you can choose which areas of business and professional English you would like to focus on each week.
For example, you could practise speaking for presentations or negotiations, get more detailed writing feedback or look at areas of English grammar. The ELTC's language tutorials offer you the opportunity to receive individual teaching and be directly involved in setting your own language goals.
---
Group size
Maximum 8 students per group from a diverse range of nationalities. 
---
The minimum enrolment period for the Business and Professional English Core Programme is two weeks. You can request to join on any Monday during our standard full-time term dates:
The course requires a minimum number of students to run, and may not be available between your requested dates.
If you require a course outside of the dates listed above, we may be able to offer this. Please visit our Special and bespoke courses page for more information.
Tuition fees in the 2022-23 academic year are £405 per week for the core Business & Professional English programme. This covers:
All tuition
Materials and textbooks
Weekly 1 to 1 tutorial
Full report that includes our assessment of your competence and our trainer's recommendations for further study.
Comprehensive Social Programme Company visits
Interactive Business and Management lecture every two weeks
Full enrolment as a student of The University of Sheffield: Benefits include discounted gym membership, swimming pool and use of sports facilities, reduced travel costs on public transport in Sheffield and reductions at many restaurants and bars. 
The minimum English requirement for the course is 5.0 overall in IELTS / 650 in TOEIC or similar.
We do not teach children or young adults. Most participants have several years' experience of working. The minimum age is 25 and there is no maximum age. The average age of our clients is 33.
Therefore you will be studying in a serious environment with highly motivated people.
Please see the links below for information about accommodation, flight transfers and the ELTC social programme:
---
Please complete our enquiry form:
Business & Professional English Enquiry Form
---
Get further information
You can contact us directly with any enquiries you may have about our courses:
A world-class university – a unique student experience
Sheffield is a research university with a global reputation for excellence. We're a member of the Russell Group: one of the 24 leading UK universities for research and teaching.