Dr Yichuan Wang
Senior Lecturer in Digital Marketing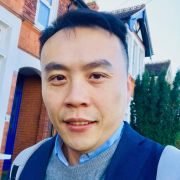 Yichuan.Wang@sheffield.ac.uk
+44 114 215 7181
Room E032, Sheffield University Management School
Full contact details
Dr Yichuan Wang
Management School
Room E032
Sheffield University Management School
Conduit Road
Sheffield
S10 1FL

Profile

Dr. Yichuan Wang is a Senior Lecturer/Associate Professor in Digital Marketing at the University of Sheffield, with previous posts as a Lecturer/Assistant Professor in Marketing at the Newcastle University Business School, and an Instructor in Business Analytics at the Raymond J. Harbert College of Business, Auburn University (USA) where he earned his PhD in business & information systems.

His research focuses on examining the impact of digital technologies and information systems (e.g., big data analytics, AI, and social media) in influencing practices in marketing, healthcare management, and tourism management.

Yichuan is the author or co-author of over 60 publications, including 5 book chapters and more than 30 refereed journal articles – attracting in excess of 1500 citations.

His research has appeared in journals including British Journal of Management, Information & Management, Annals of Tourism Research, Journal of Travel Research, Journal of Business Research, Industrial Marketing Management, IEEE Transactions on Engineering Management, International Journal of Production Economics, Technological Forecasting and Social Change, and Computers in Human Behaviour, among others.

He currently serves as a member of the editorial board for Enterprise Information Systems and as a guest editor of special issue for several academic journals including Industrial Marketing Management, Information Systems Frontiers, Journal of Business Research, Technological Forecasting and Social Change, and Information Technology & People.

Yichuan received the Best Paper Award at the Global Marketing Conference and was listed as a finalist for the Best Paper Award at the 20th Americas Conference on Information Systems (AMCIS 2014) and the 13th International Conference on Operations and Supply Chain Management (ICOSCM 2019).

He was awarded a Research Excellence Award from Newcastle University in 2018 and a Third Place Award from Cambridge/Kent/Czinkota Competition for Excellence in International Business Case Writing in 2019.

His research papers "Big data analytics: Understanding its capabilities and potential benefits for healthcare organizations" and "An integrated big data analytics-enabled transformation model: Application to health care" are selected as one of the most downloaded articles in Technological Forecasting and Social Change and Information & Management respectively since January 2017.

Yichuan is the co-founder of International Conference on Digital Health and Medical Analytics and a co-chair of its conference programme committee.

He has co-organised the 3rd International Conference on Marketing, Strategy and Policy that was hosted by Newcastle University London in 2018.

He also has served as mini-track chair for the Americas Conference on Information Systems (AMCIS) and Hawaii International Conference on System Sciences (HICSS), as a workshop chair for European Conference on Information Systems (ECIS), and as an associate editor for the Pacific Asia Conference on Information Systems (PACIS).

Yichuan has been a consultant for both private and public sectors in the UK, USA, China, and Taiwan.

In recent years, he has led and being closely involved with industry on a number of international projects in healthcare domains, including Louisiana State University Health Sciences Center (LSUHSC) at Shreveport and at Monroe (USA), AskaPatient.com (a healthcare online community operated by Consumer Health Resource Group, LLC), and First Affiliated Hospital of Zhengzhou University (China).

These funded projects aim to help hospitals improve quality of care through using operation management approach (e.g., lean and six sigma), healthcare information systems, and business analytics.
Research interests

Social media & digital marketing
Big data analytics & AI
Digitalisation enabled business transformation
Digital health and its business value
Sharing economy
Publications

Books

Journal articles

Chapters

Conference proceedings papers
Research group
Teaching interests

Yichuan's goal in teaching is to foster thoughtful, critical, engaged, independent thinkers.

The learning-by-doing approaches including peer learning, team-based simulation games, real-world case studies, collaborative learning with industrial experts have been incorporated into the modules.

He has created a learning environment in which industry-immersive experience is involved.

For instance, In the Principle of Marketing module he taught at Newcastle University, a real-world project collaborating with an UK-based logistics company allows marketing students to co-develop the digital marketing campaign with the company, analyse the transaction data to optimise their service operations, and eventually help students synthesise and apply theoretical concepts into practices.

In the Business Analytics course (taught at Auburn University, USA), he and his students have collaborated with a local government to address societal challenges by collecting and analysing storm drain data to help the government prevent flood damage.

He is also very enthusiastic about using serious games (or simulation games) in the modules.

He has worked with Auburn University Samuel Ginn College of Engineering to develop serious game for students to learn engineering knowledge and skills.

This project was funded by National Science Foundation (NSF), USA (US$ 200,000).

His commitment and approach to teaching have been rewarded with the outstanding teaching evaluation in the most evaluation categories.

He was nominated for Teaching Excellent Awards in the category of global campus at Newcastle University in 2018.

He was made a Fellow of the Higher Education Academy in 2018.
PhD Supervision

Prospective PhD applicants and PhD students are welcome to make enquiries especially if you are interested in doing the research in the areas of social media marketing, sharing economy, big data analytics and healthcare information technologies.